10 Best AI Photo Restoration Tools in 2023
lvwzhen
Monday September 11th, 2023
Seeking top-notch photo restoration services to revive your precious old photos? Whether severely damaged by water, light, or time, these services can rejuvenate them in a blink.
Photo restoration tools are not just blemish-fixers. They efficiently remove scratches, tears and water damage, and enhance colors, resulting in vibrant, restored photos.
Artificial intelligence (AI) recently revolutionized photo restoration, improving speed, accuracy and accessibility. Here are the top 10 AI-driven photo restoration tools to help breathe new life into your old memories: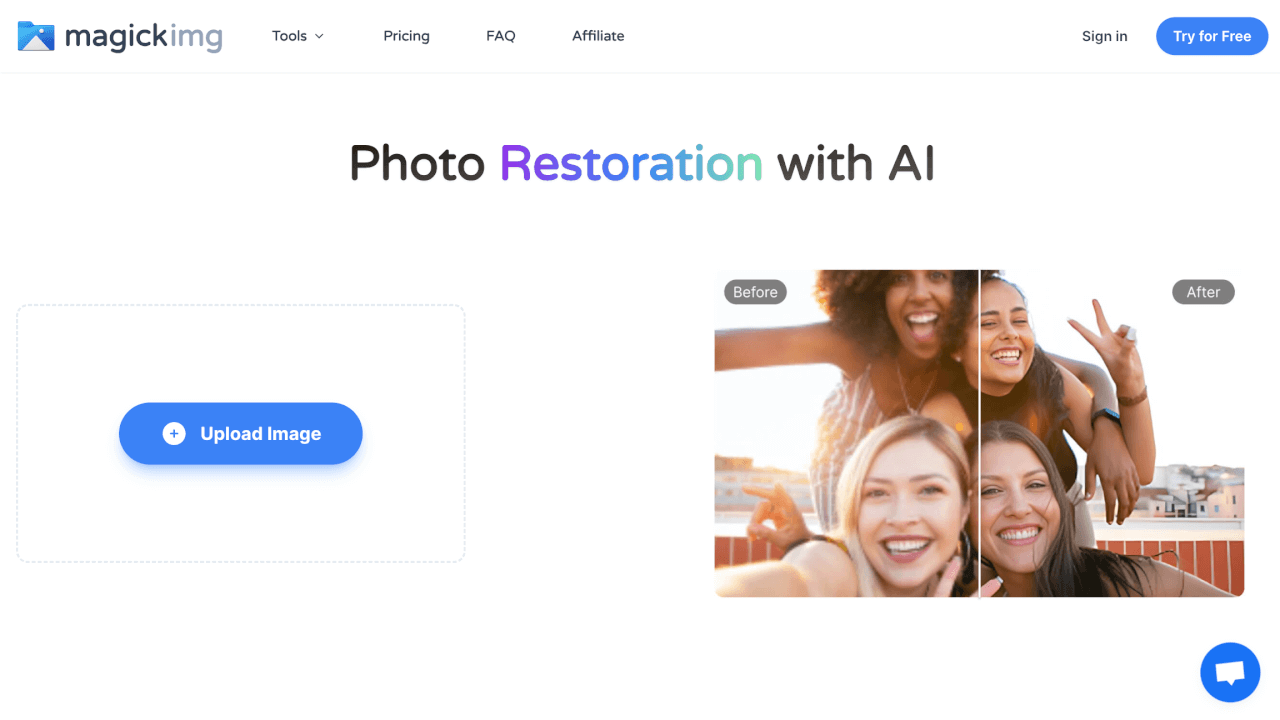 Magickimg is a state-of-the-art, AI-driven platform that leverages deep learning for unmatched image enhancement. It offers advanced tools powered by AI to revolutionise and optimise your photographs, creating the perfect blend of artistry and technology with it's cutting-edge AI deep learning functions for image editing.
Features
AI Photo Restoration: Give a new life to your old precious memories. Magickimg allows you to upload your old photos, and with the help of AI, restore them in HD quality.
Upload: Easily upload your blurred or damaged photos to Magickimg. The platform supports JPG and PNG formats.
AI Restores Photo: Magickimg uses a proprietary deep learning algorithm that works to repair scratches, enhance details, and sharpen edges.
Download: After viewing the restored photo and making necessary adjustments, you can conveniently download the revitalized photo to your own device.
Price
Free: $0 for 5 credits a month;
Subscription: $2.49/month for 50 credits a month;
Pay as you go: $5 for 50 credits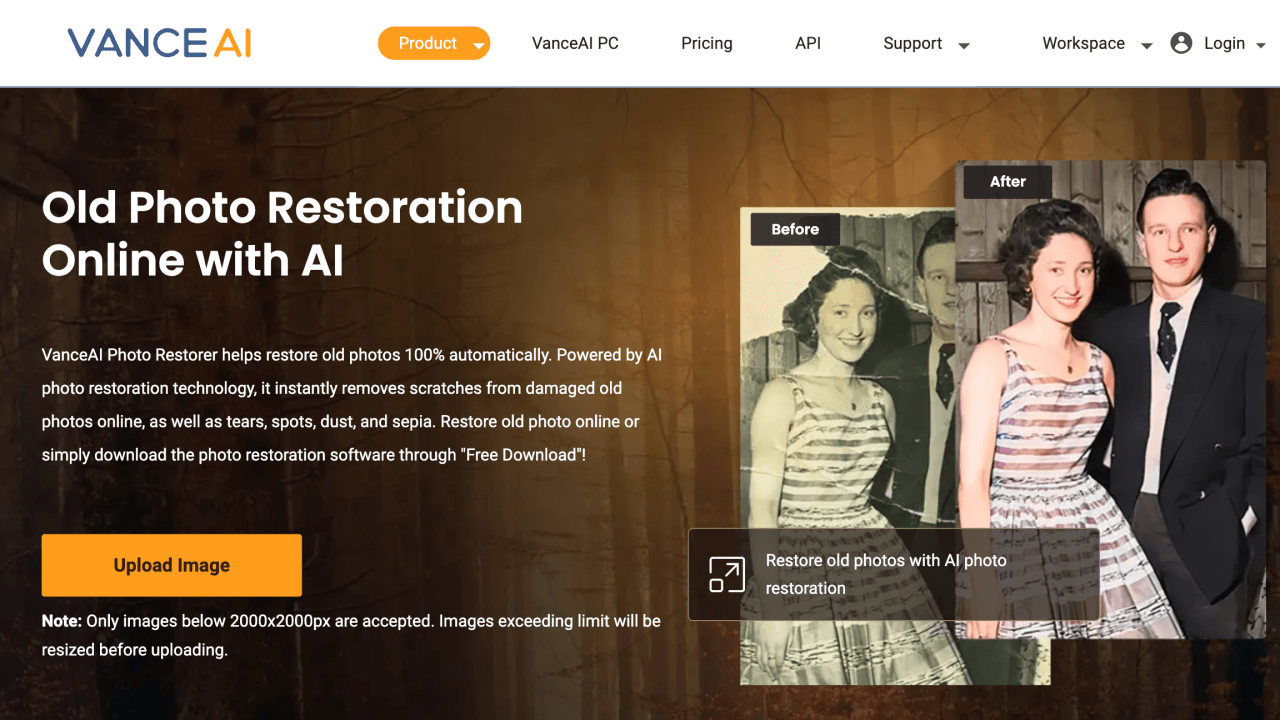 VanceAI Photo Restorer is a comprehensive AI-powered tool, perfect for reviving old and damaged photos with high precision. Its user-friendly interface and advanced algorithms make it suitable for both novice and professional users.
Features
Offers automatic colorization and noise reduction powered by AI
Provides the option for batch processing, allowing multiple photos to be worked on simultaneously
Guarantees high-resolution output, ensuring the restored images remain high-quality
Capable of effectively removing scratches, breathing new life into your old photos
Price
Basic: $9.90 per month, process up to 200 images
Pro: $19.90 per month, process up to 500 images
Enterprise: Please reach out to their sales team for a customized quote.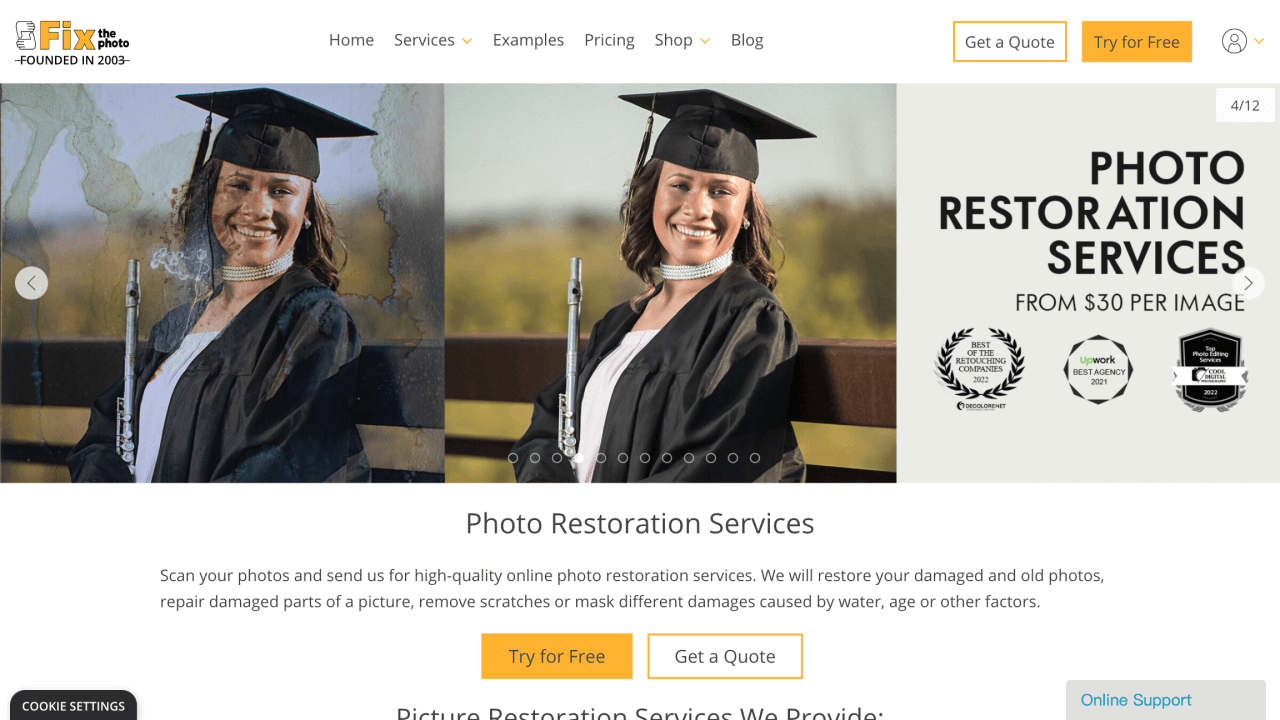 FixThePhoto is a professional image editing platform offering a plethora of services for photographers and videographers online. From minor corrections to major overhauls, FixThePhoto provides different plans based on your needs and budget.
Features
Provides standard, premium, and extreme plans for varying levels of photo restoration
Offers free resources for photo editing (like Photoshop bokeh overlays, Lightroom HDR presets, water textures) and video editing (like glitch effect video overlays and cinematic LUTs)
Quick turnaround with delivery in 1-3 days
Restores lost details in photographs and provides exceptional final products
Ongoing 40% off on photo restoration services
Price
Pricing ranges from $25-50 per image
Exact pricing depends on the level of service needed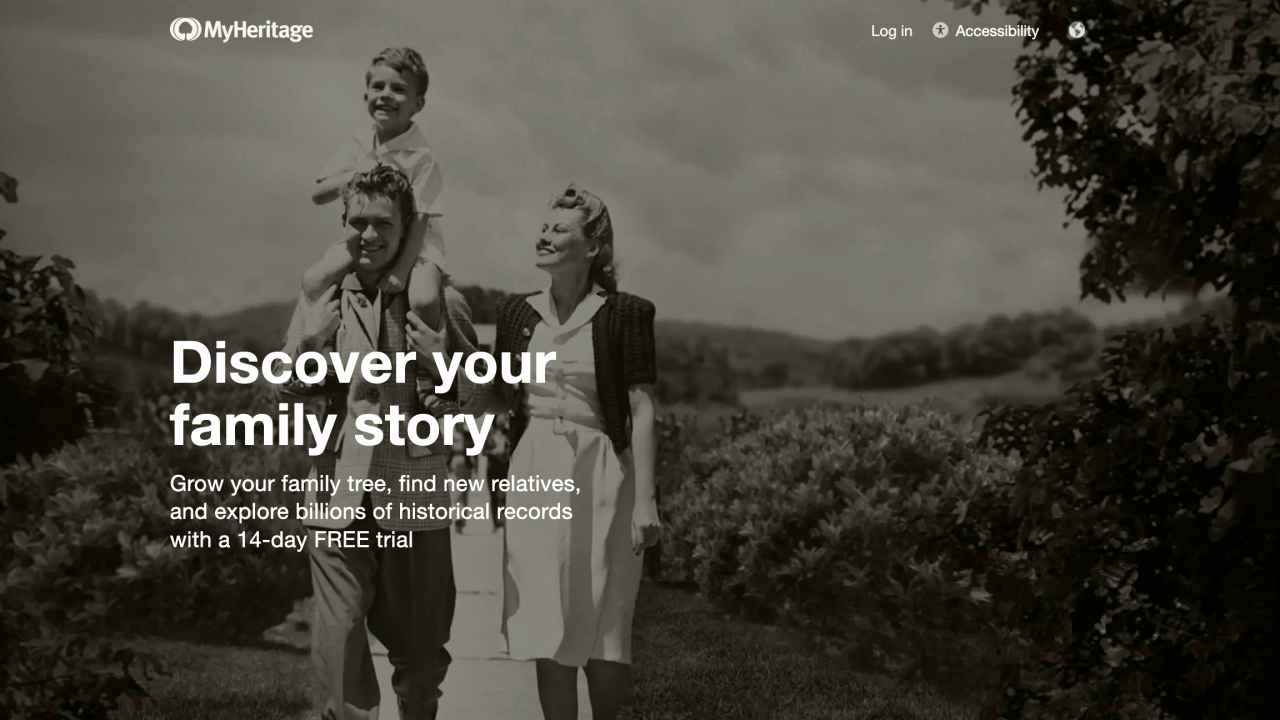 MyHeritage is a renowned AI-powered tool designed to restore old family photos. It offers multiple editing capabilities that revamp your pictures, which may seem complicated initially but get easy over time.
Features
Restores original colors of images that have faded over time.
Allows sharpening of faces in old photos if clarity is compromised.
Only offers an online version of the application, requiring users to sign in to access editing options on this platform.
Provides an easy and quick restoration process.
Improves the quality of portraits in your images.
Price
Free: Provides free access but limits you to restoring only 10 images.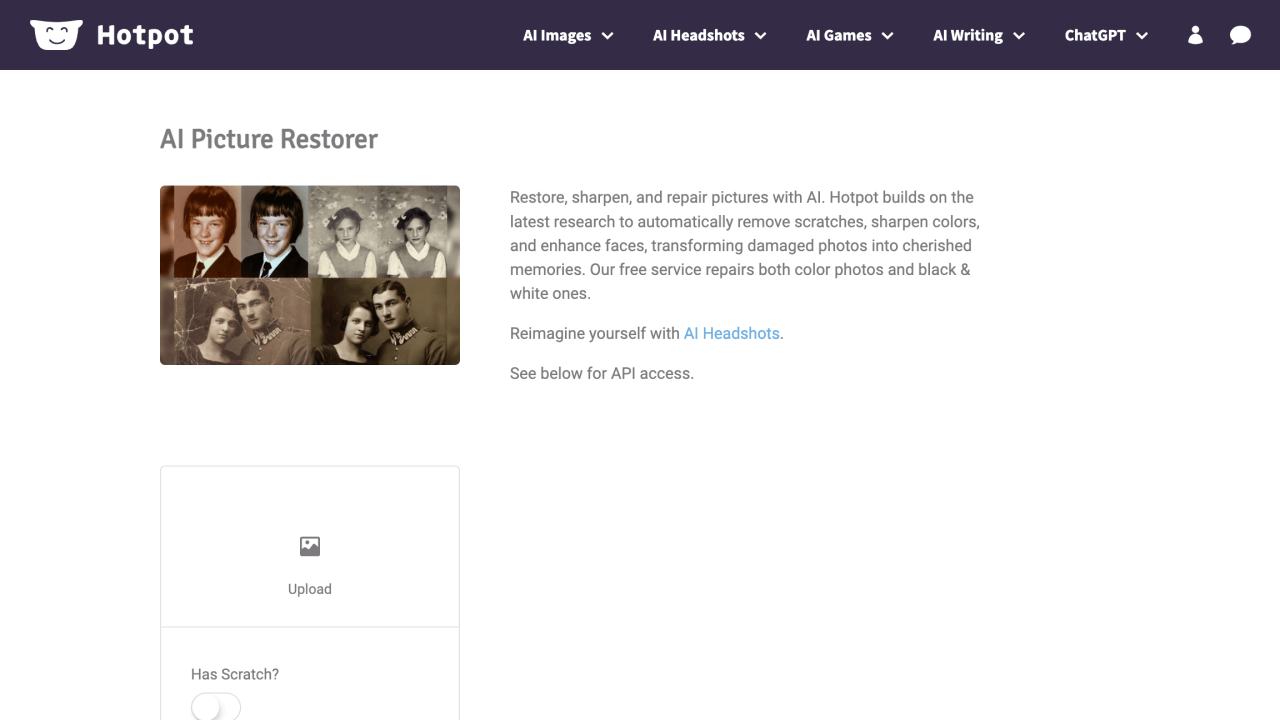 Hotpot AI is an innovative tool enabled with AI technology that introduces an AI Picture Restorer feature—currently in its Beta phase. This tool is capable of restoring and repairing any image using AI within seconds.
Features
Not just restores colors but also enhances sharpness, eliminates scratches, and amplifies facial details in photos.
The AI Picture Restorer is free of charge—for the time being—and works effectively on both grayscale and colored pictures.
Offers API access, enabling you to integrate their service into your website.
Price
$0.02 - $0.25 per image depending on volume, subscription, and co-marketing.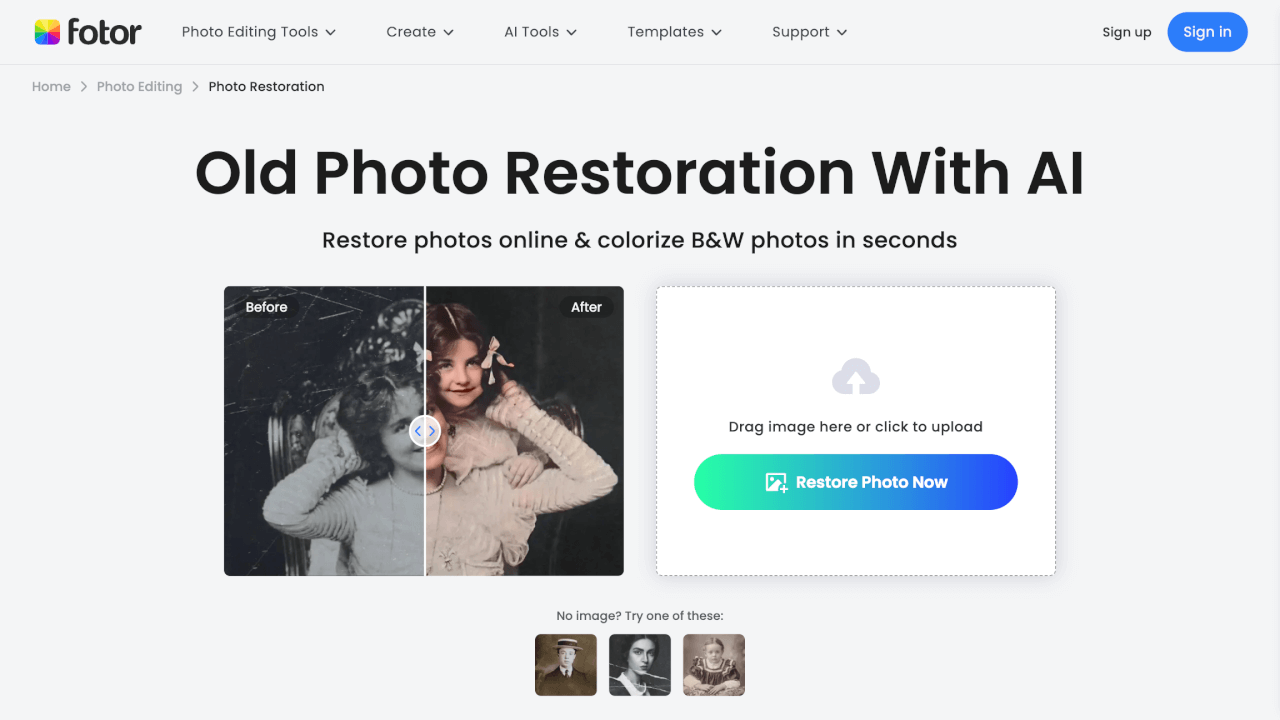 Fotor is an AI-powered photo restoration tool that allows you to easily bring old photos back to their former glory.
Features
Houses an object remover that can eliminate any spots or scratches in your photos
Includes a photo enhancer and blur remover for optimal photo quality
Contains a built-in light enhancement tool for automated brightness adjustment
Can be used on the web or downloaded as an app on mobile devices
Price
Free for basic use
Premium services are available for a fee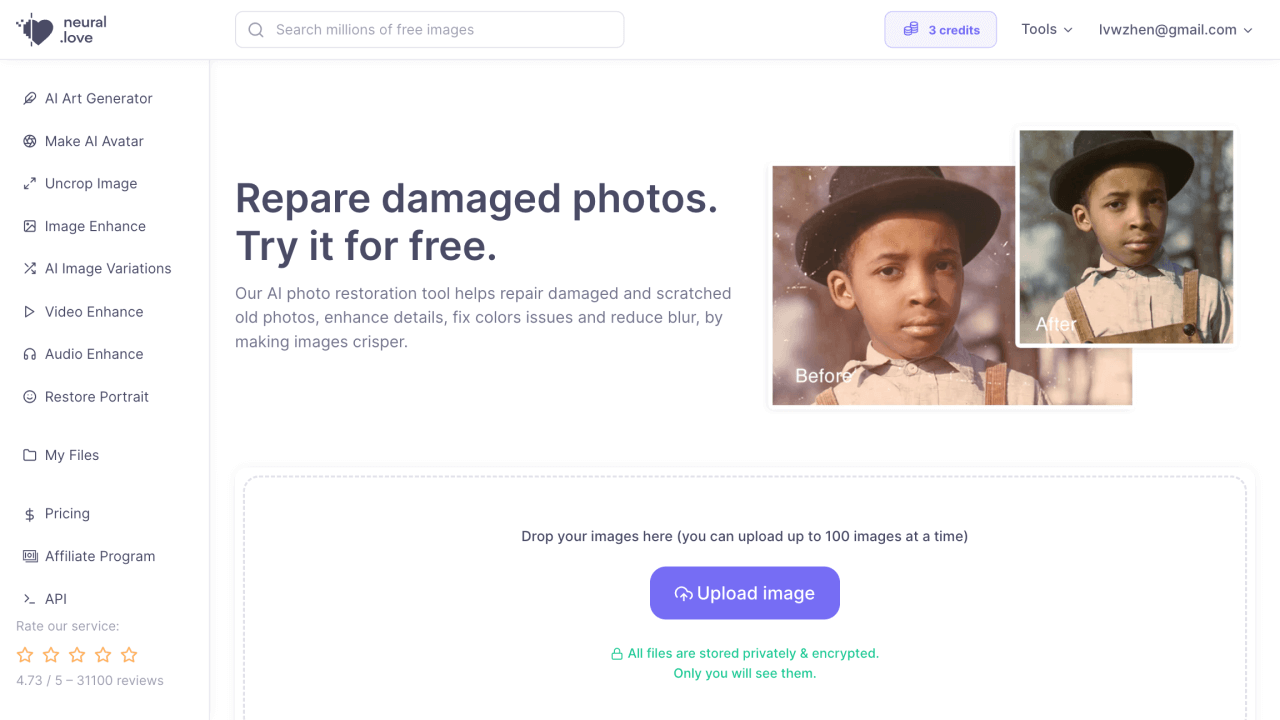 Neural.love is an AI-powered online platform established in 2020. It provides AI services for audio, video, and image editing and enhancement. The platform's unique feature, the AI photo restoration tool, is designed to repair and restore damaged images completely free of charge.
Features
Repairs damages and scratches in photos
Enhances details in images
Fixes color issues in pictures
Reduces blur, making images crisper using AI
Intuitive drag-and-drop function for hassle-free photo restoration
Allows cloud-based photo upload, editing, and download through Neural.love's web app.
AI removes scratches, dust, and tears from old photos, restoring them to their original condition. The photo restoration process also includes color correction and face enhancement features.
Price
Currently, Neural.love provides photo restoration services free of cost.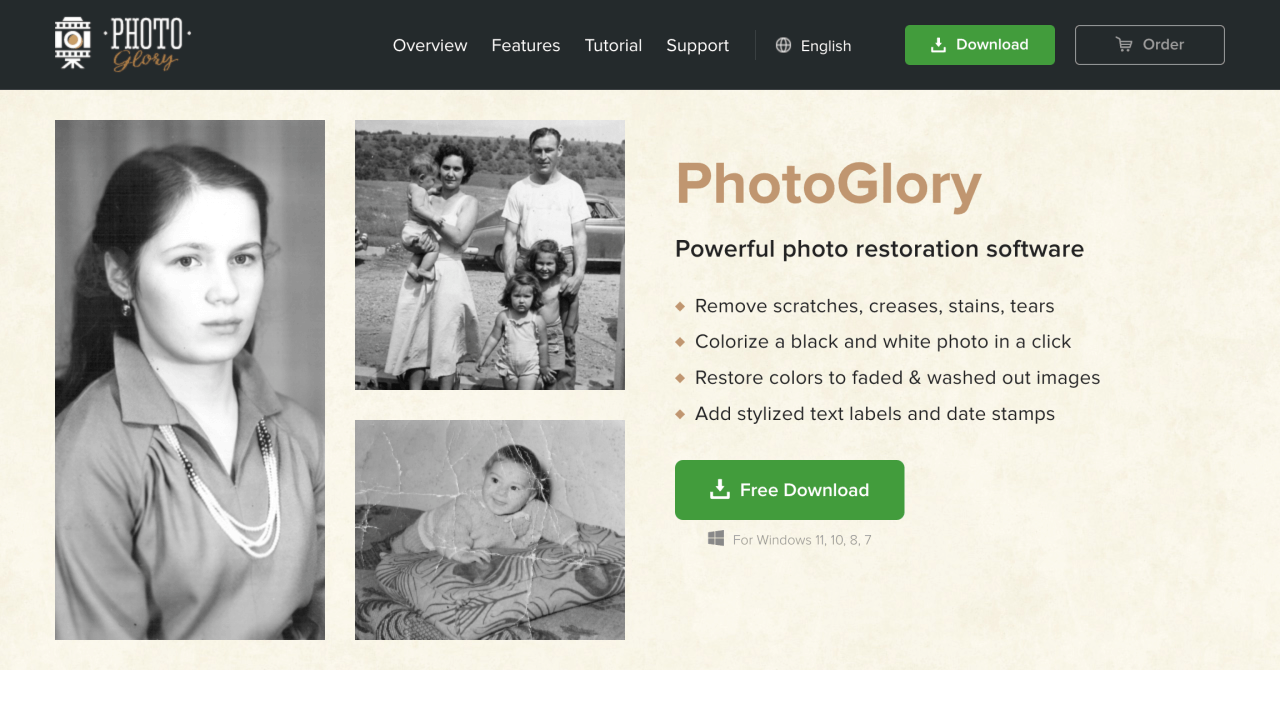 PhotoGlory is an potent photo restoration software equipped with a plethora of tools for Windows OS users. Weather you are an amateur or a professional in photo restoration, it provides an intuitive and semi-automatic workflow, ensuring exquisite results with minimal manual intervention.
Features
Restores photo quality
Allows addition of colours to black & white photos
Comes equipped with colour correction tools for aged photos
Enables the addition of fashionable labels and date stamps
Includs hundreds of built-in filters and effects to breathe new life into old photos
Requirements
Windows 7 or above
CPU 1GHz or faster
RAM 4GB or more
Hard drive space minimum 500 MB
RestorePhotos.io is a comprehensive AI-powered platform designed to restore old and blurry facial pictures.
Features
Powered by AI tools: Replicate and Vercel
Used by more than 80,000 satisfied users globally
Allows you to upload an original photo and then applies AI algorithms to enhance the image's quality
The service is open-source, providing users with access to the source code and the option to deploy it on Vercel
Praised for its excellent design and functional website
Price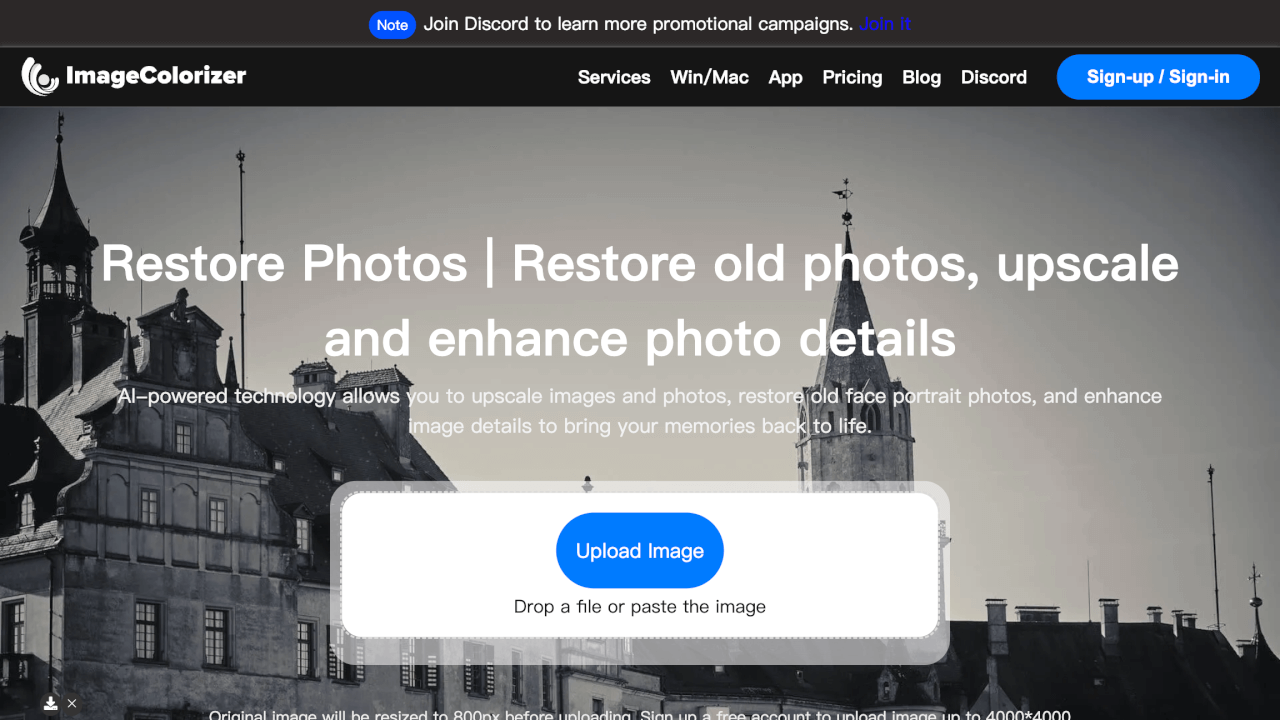 ImageColorizer is an AI-based photo restoration tool specifically designed to colorize black and white images. Its advanced AI algorithms analyze the grayscale data in your photos and intelligently apply realistic colors, effectively breathing new life into old memories.
Features
Offers automatic colorization through AI technology
Features an intuitive interface, making it user-friendly
Supports batch processing, allowing heavy workloads
Is not just a colorizer, also repairs and enhances photos by removing scratches and adjusting brightness and contrast levels