10 Best AI SEO Tools in 2023
lvwzhen
Sunday August 6th, 2023
Welcome to the SEO battleground, where the survival of the fittest rules. Dreaming of that coveted Page 1 Google ranking? Craving more traffic, leads, and sales? Well, you are not alone!
But, conquering the world of SEO ain't easy. It's a maze of keyword research, page optimization, content creation, link building - no wonder SEO pros seldom have a moment to spare.
Cue Artificial Intelligence (AI)! It's shaking up the digital marketing arena, and SEO is no exception. Don't fret, AI is not here to snatch jobs but to lend a helping hand. It takes care of the humdrum tasks, churns out data-driven insights, and lightens the load of SEO teams big time.
Imagine having a savvy marketing expert inside your computer. Sparks some ideas, researches competitors, suggests engaging blog topics - All in a blink! Yes, that's what top-notch AI SEO tools are designed for. They churn through heaps of data, point out patterns and pop out smart recommendations fitting your brand and goals.
Now that sounds cool, doesn't it? But how do you choose the right tools without breaking a sweat or your bank account? Fear not, we got you covered! Let's dive into the compelling benefits of AI for SEO and how to pick the tools that fit like a glove. Armed with AI, you'll gain an edge over your rivals and soar to Google rankings you've only dreamt of. So, fasten your seatbelts, and let's unlock the power of AI for your SEO adventure!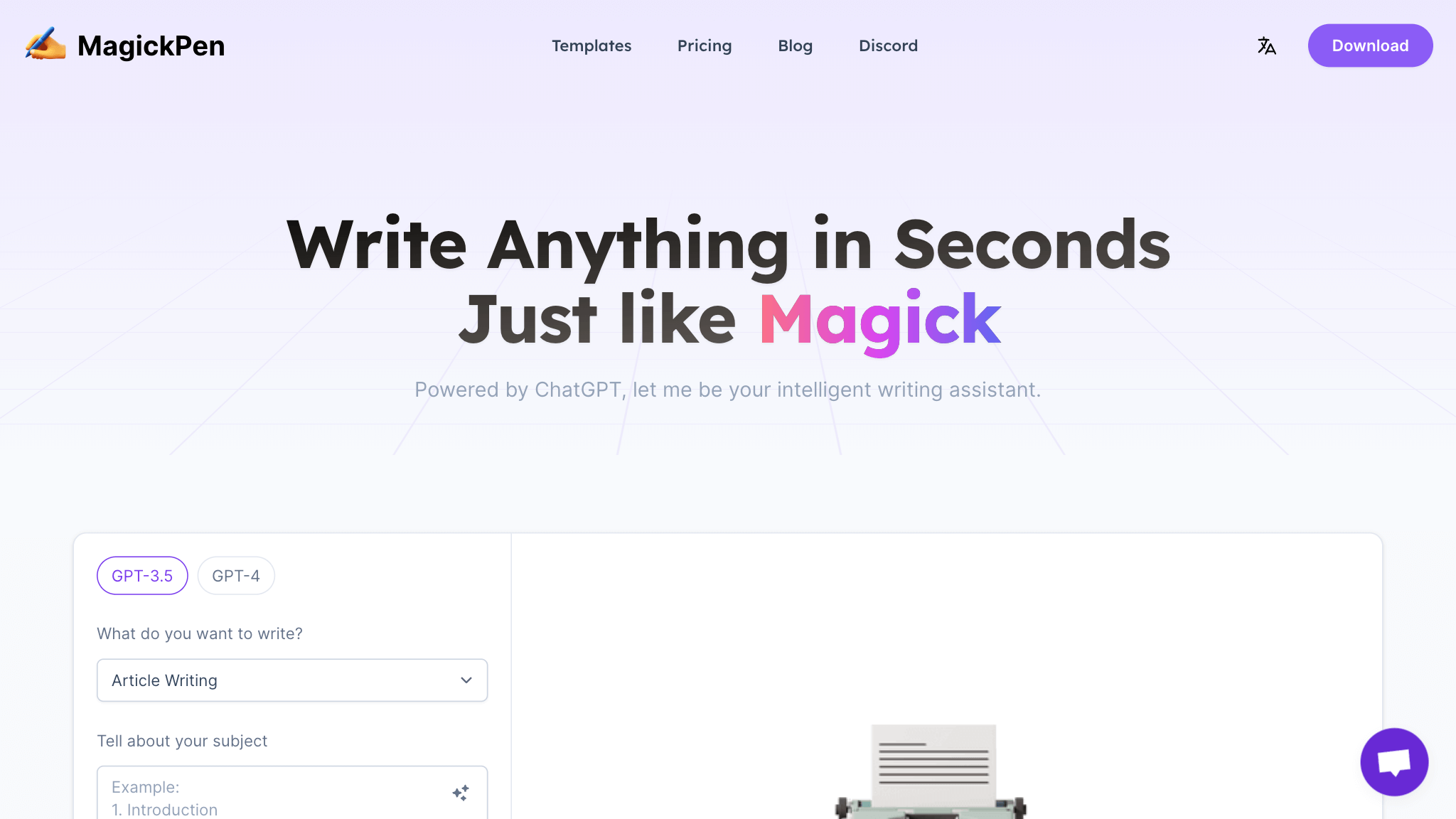 MagickPen is an intuitive AI writing tool built on ChatGPT tech for streamlined content creation. With versatile customization, cross-platform compatibility, and marketing features, it's a helpful writing assistant. MagickPen transforms AI content generation into an easy-to-use platform.
Whether for blog posts, social media or marketing copy, it quickly makes high-quality drafts tailored to your needs. A free trial lets you test its capabilities, and Premium plans offer unlimited access. Essentially, MagickPen is a vital AI writing partner for any business or project.
Features:
AI-generated writing for any topic with ease
Advanced personalization of tone, style, length
SEO-optimized content including keywords and descriptions
Ad and marketing campaign templates
Free trial plus affordable subscription plans
Mobile and desktop apps for convenient access
Pricing:
Free trial: 10 trial credits per day
Pro: Flexible choices of 100, 300, and 1000 credits, without time limits
Subscription: $29 a month for unlimited points
Education discount: 40% off with edu email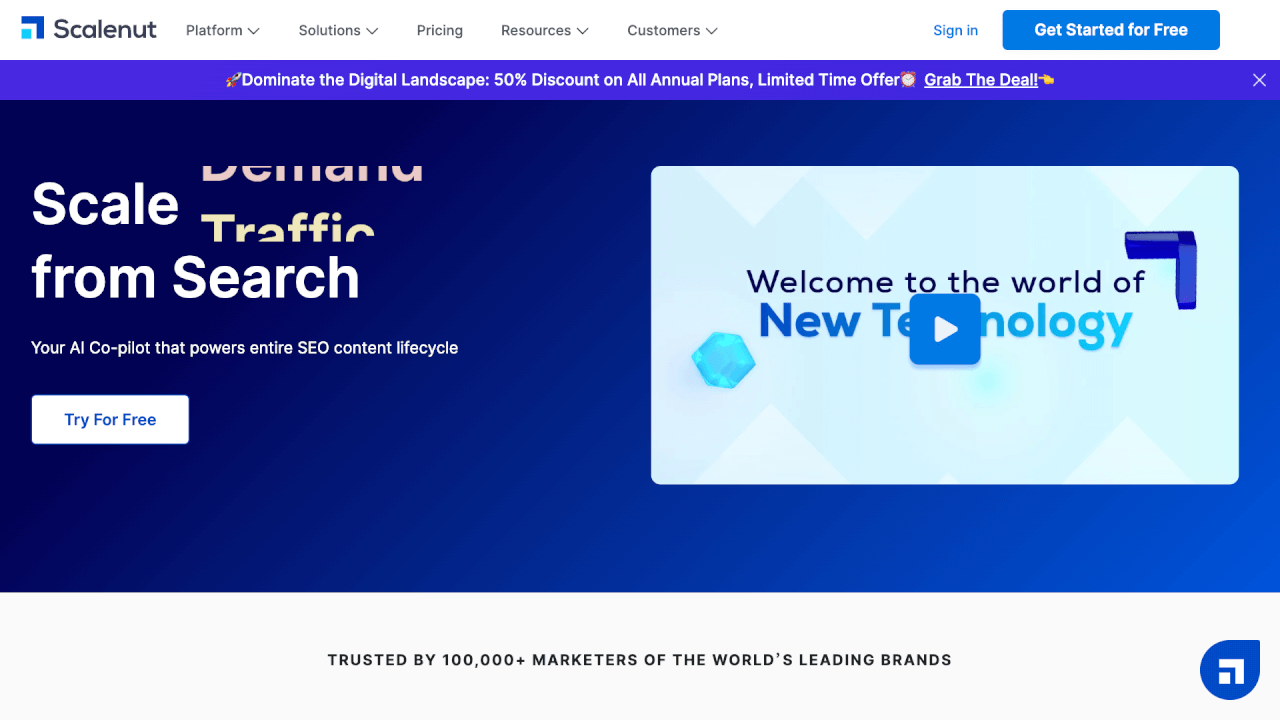 Scalenut is an AI-powered content creation and optimization platform designed to fully automate SEO workflows from research to publication. It provides robust tools for uncovering high-value keywords, leveraging AI article generation, benchmarking competitors, tracking performance, and more.
This all-in-one toolbox aims to simplify and streamline every step of the SEO content process using the power of artificial intelligence.
Features:
AI article writer
Real-time SEO content optimization
Competitor analysis
SEO scorecards and reporting
Pricing:
Free 7-day trial
Starter: $23/month
Team: $59/month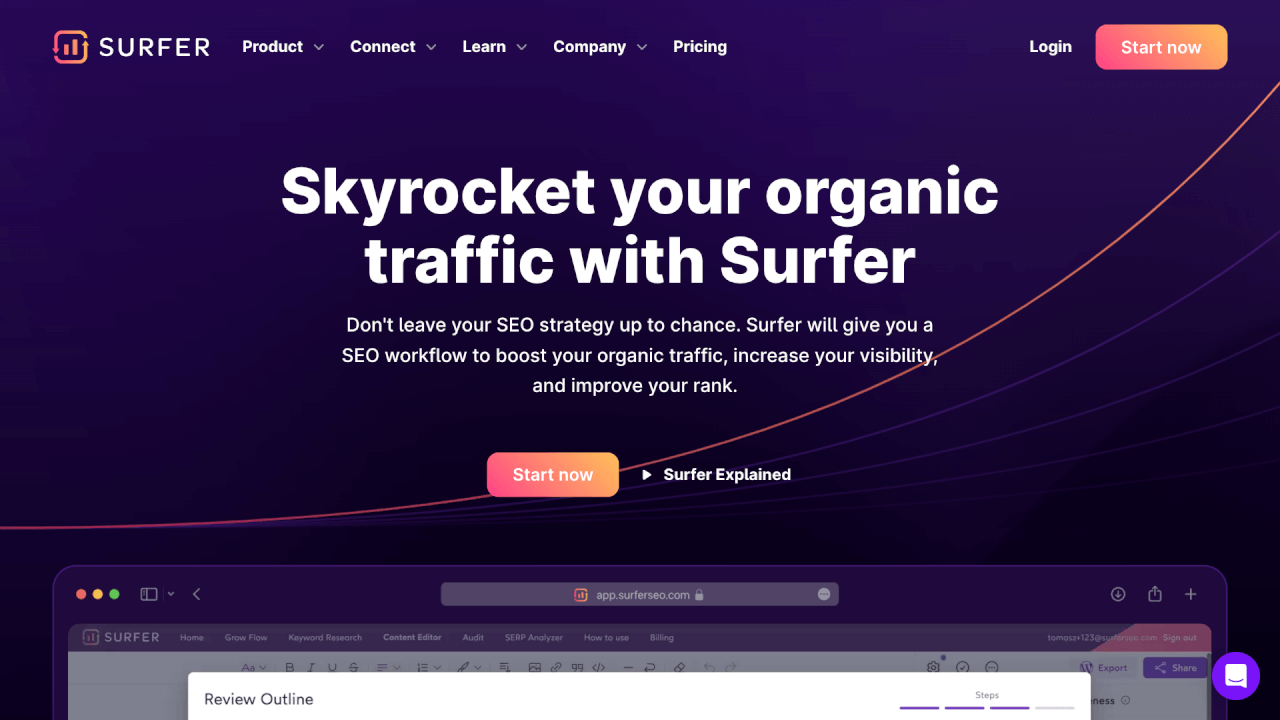 Surfer SEO is an intelligent content optimization tool that utilizes natural language processing to analyze top-ranked competitor pages and provide specific recommendations for optimizing your own content.
It benchmarks rivals and guides your SEO content strategy based on proven success metrics in an effort to boost rankings.
Features:
Weekly SEO task planner
AI content generator
SEO content editor
Plagiarism checker
Pricing:
Free trial
Essential: $89/month
Advanced: $179/month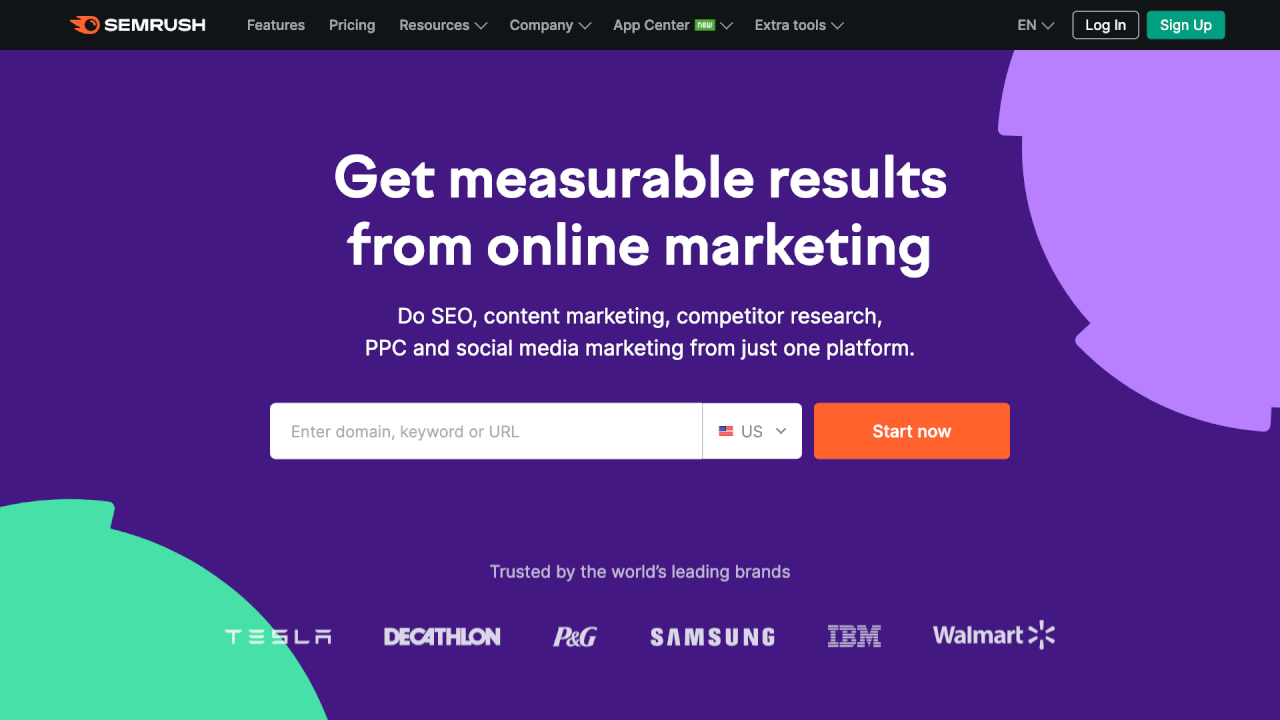 SEMrush is a leading SEO software suite with a comprehensive set of AI tools to automate key workflows like content optimization, competitor research, rank tracking, link building, and personalized reporting. It aims to provide an all-in-one SEO solution covering every step of strategy development and execution.
Features:
76+ AI SEO tools
AI writing assistant
Rank tracking
Backlink analysis
Competitor keyword gaps
Pricing:
Free limited access
Pro: $119.95/month
Guru: $199.95/month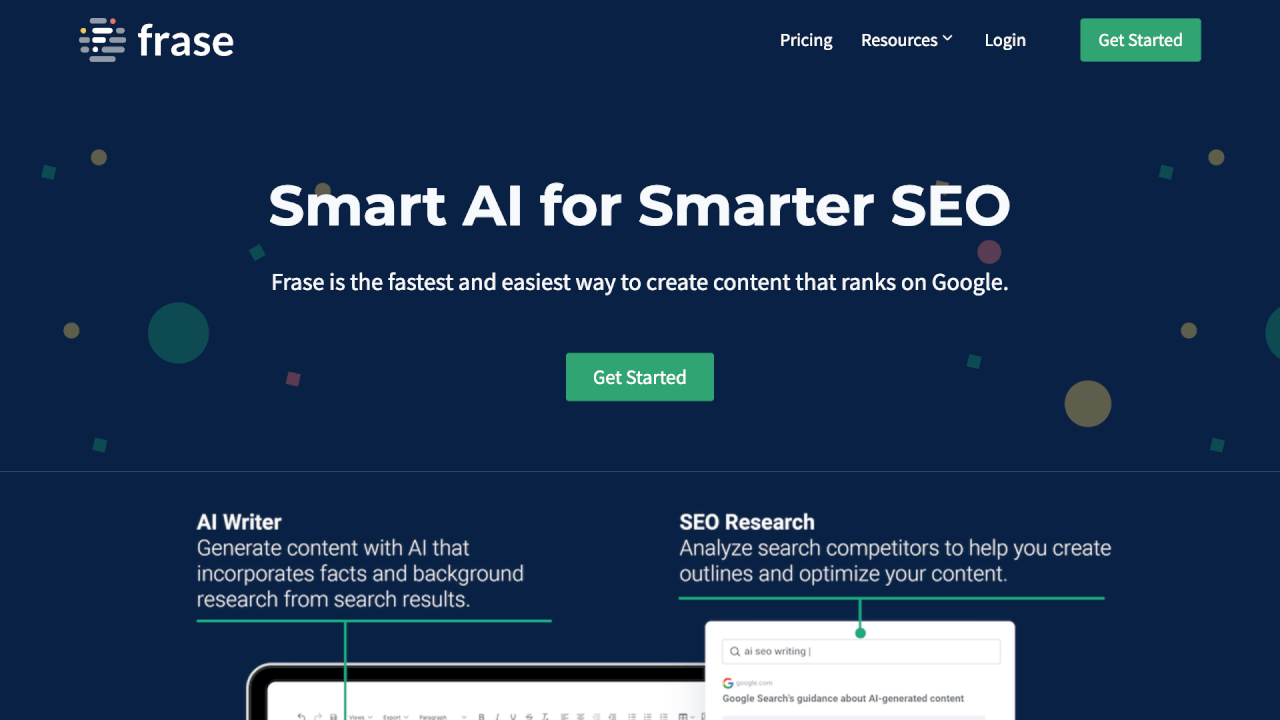 Frase is an AI-powered content creation and optimization platform designed specifically for SEO success, providing data-driven insights and streamlining research, writing, and editing.It connects directly with your Google Search Console data to deliver actionable recommendations for improving performance.
Features:
SEO analysis dashboard
AI content writer
GSC analytics integration
Competitor benchmarking
Pricing:
Solo: $14.99/month
Team: $114.99/month
Custom enterprise pricing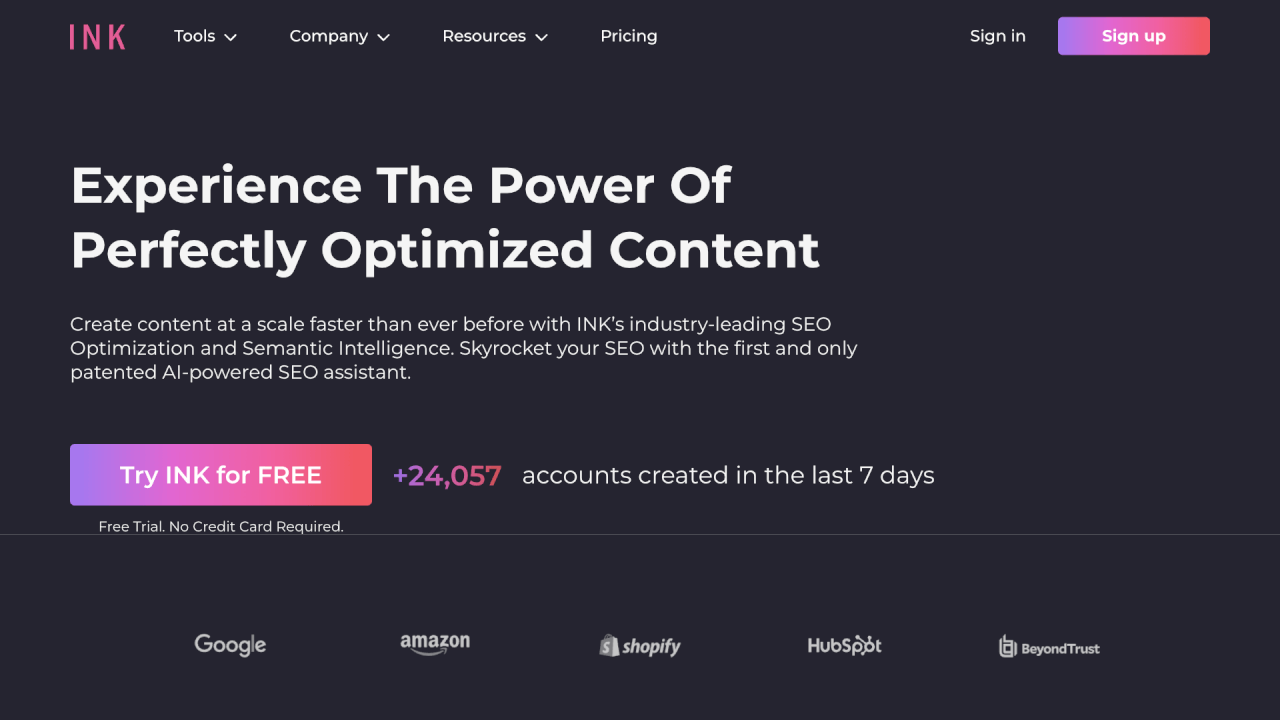 INK is an AI content creation and optimization platform tailored specifically for SEO, assisting with keyword research, writing, editing, optimization, and more.It provides an integrated suite of tools to streamline and simplify SEO content workflows.
Features:
AI writing and editing
SEO scorecards
Plagiarism checker
Image optimization
Pricing:
5-day free trial
Creator: $39/month
Agency: $99/month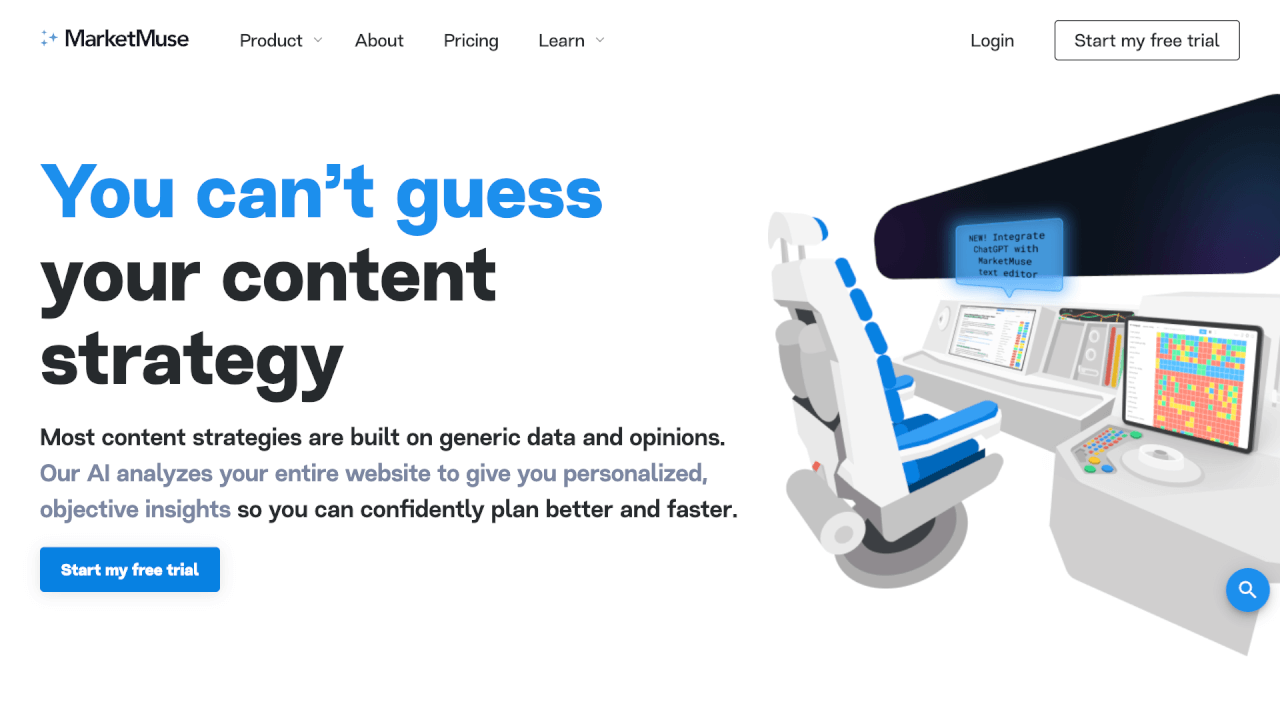 MarketMuse offers a suite of AI tools focused on developing data-informed SEO content strategies through content analysis, brief creation, optimization, and planning.It aims to help shape content around concrete data points tailored to your brand and industry.
Features:
Content brief generator
SEO content planning
Competitive content analysis
Cluster content analysis
Pricing:
Free limited access
Standard: $149/month
Premium: Custom pricing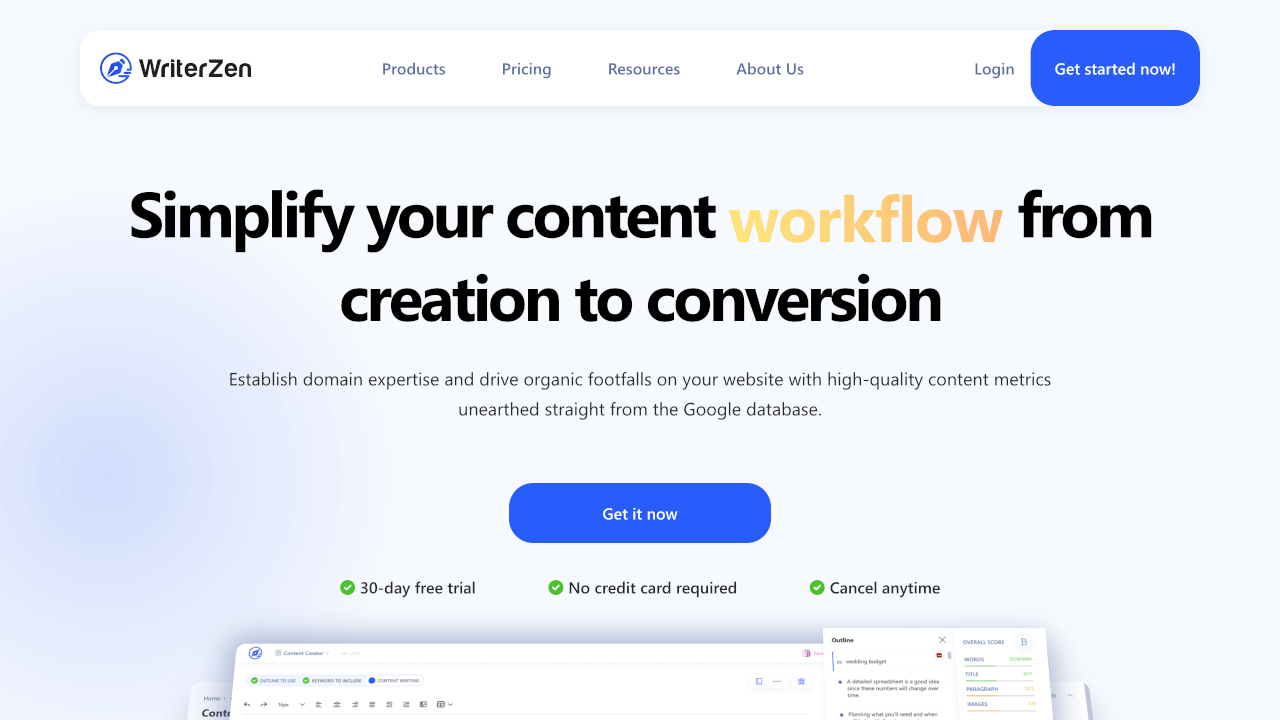 WriterZen combines automation and AI to create an integrated writing suite for streamlining SEO content workflows including research, creation, optimization, and tracking.It seamlessly integrates SEO intelligence into the content creation process.
Features:
SEO content templates
Topic research clusters
Competitor benchmarking
Content management
Pricing:
Lite: $23/month
Pro: $219/month
Ultra: $399/month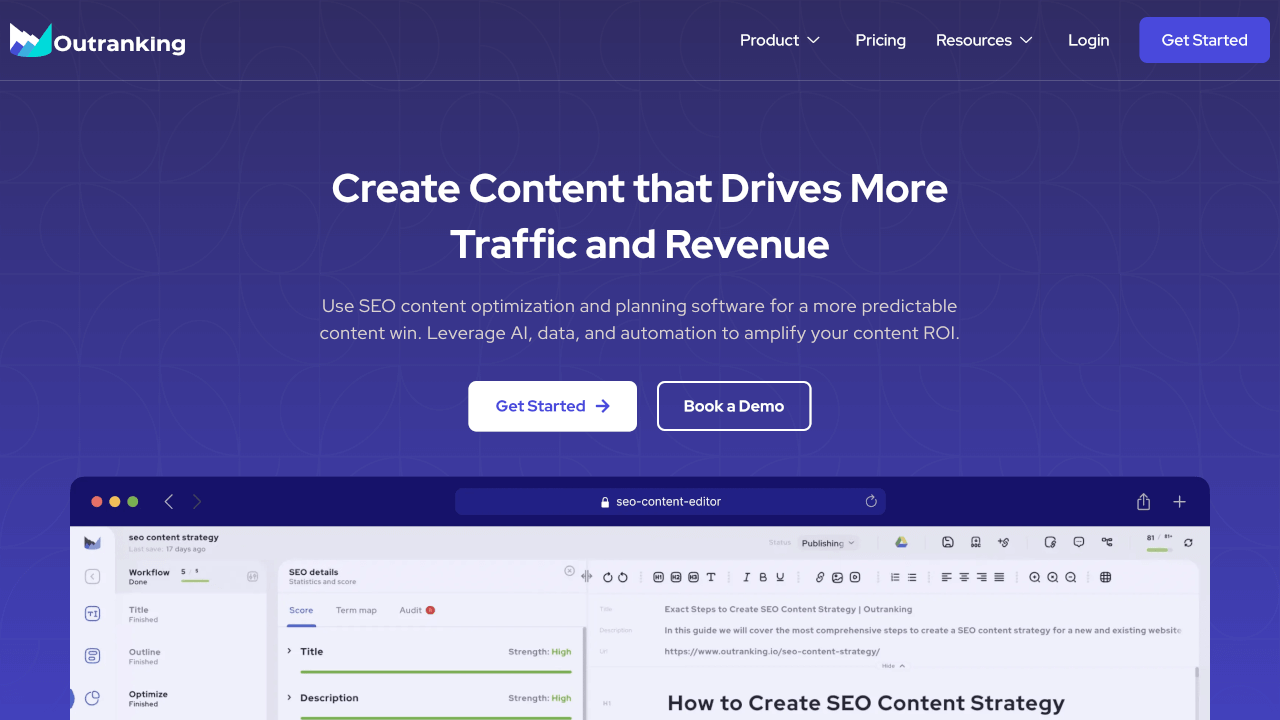 Outranking provides AI tools specialized for key SEO workflows like website auditing, content creation, rank tracking, competitor analysis, and performance reporting.It offers robust functionality while focusing specifically on critical SEO activities.
Features:
Automated website audits
SEO task manager
AI article writer
Rank and traffic tracking
Pricing:
Starter: $7 first month
Basic: $59/month
Unlimited: $139/month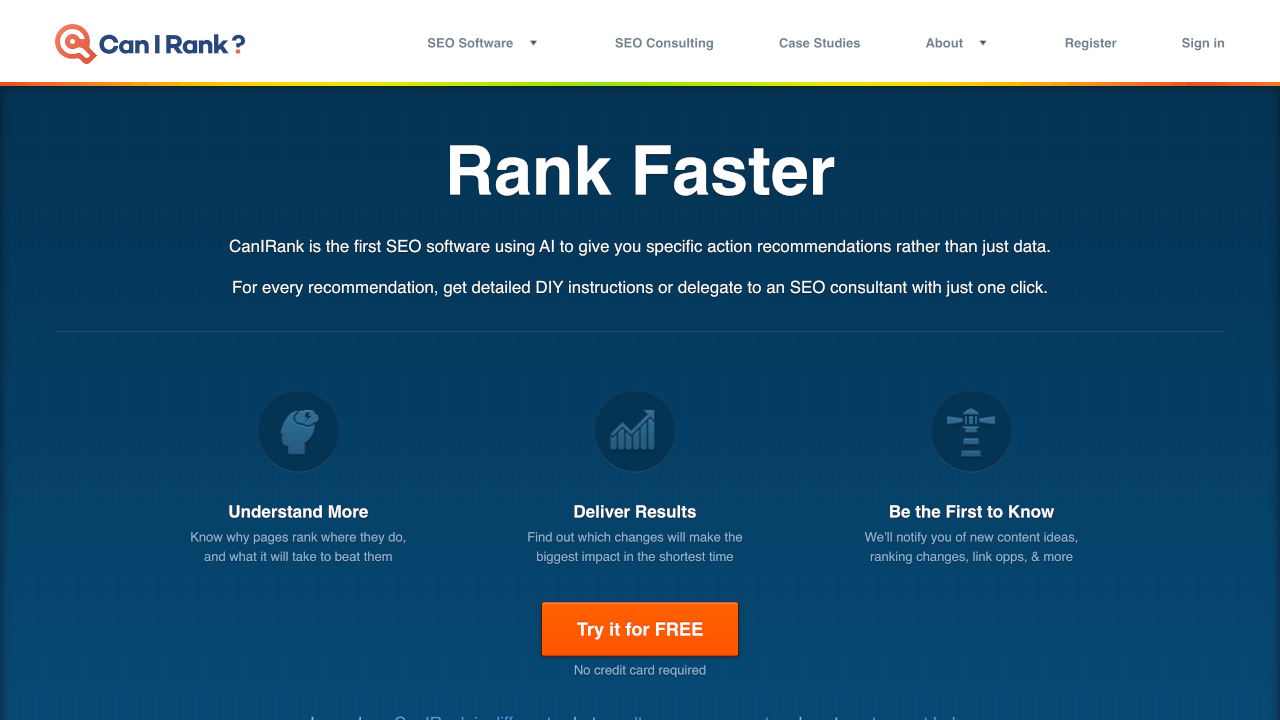 CanIRank is an AI platform that scans your site and competitors to deliver tailored SEO recommendations and track keyword positions all in an effort to boost rankings.It aims to provide actionable insights and next steps you can implement to directly improve SEO.
Features:
Actionable SEO tasks
Rank tracking
SEO reports
Keyword research
Pricing:
Free limited access
Pro: $49/month
Agency: $199/month
AI SEO tools are essential in 2023 to streamline optimization workflows, create high-quality content faster, analyze competitors, and boost website traffic and conversions. The top options provide robust features while integrating seamlessly into existing systems and workflows. Many offer free trials to test them out. For the best results, combine AI software with SEO expertise.
Image by storyset on Freepik