10 Best ChatGPT Alternatives in 2023
lvwzhen
Tuesday July 25th, 2023
It's hard to miss the rising popularity of ChatGPT on the web. Based on OpenAI's GPT-4 language model, it offers an interactive AI conversation experience. However, high demand often overloads the servers. If ChatGPT seems accessible, we've got a guide to fix it.
Looking for a ChatGPT-like experience or new plugins? You're at the right place. This guide lists various ChatGPT alternatives for you to try. So, let's not waste time and chat with AI bots!
AI is driving innovation. Tools like ChatGPT transform creative writing, coding, and visual content. Despite its low cost ($20/month), ChatGPT excels in story crafting, code writing, and content creation.
But why stop there? Explore alternatives that are cheaper and devoid of prompt engineering issues. We've researched the best ChatGPT alternatives, fit for different uses like research, coding, and graphics. Journey with us as we explore these promising alternatives, ready to surprise you in 2023!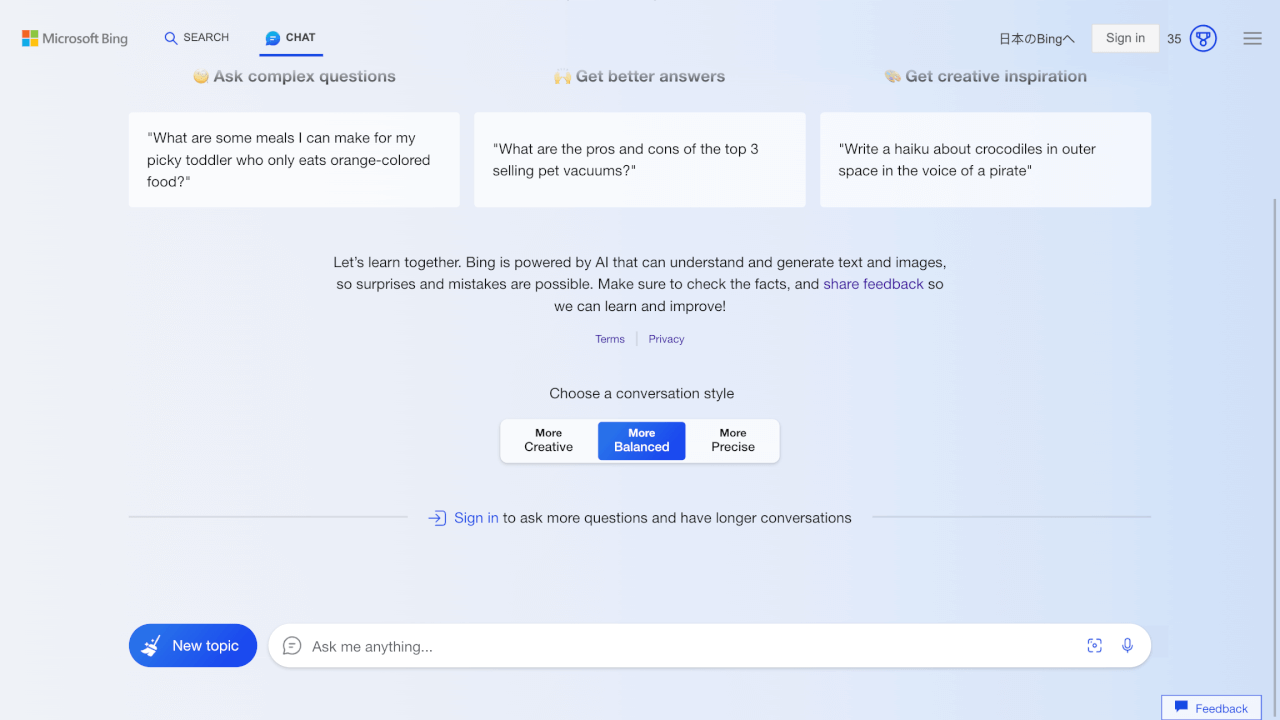 Microsoft Bing AI is a recently introduced AI-powered search engine that elevates the search experience to a new level.
Features
Built on OpenAI's large language model, surpassing the capabilities of both ChatGPT and GPT-3.5
Optimized for speed, accuracy, and efficiency
Allows users to pose queries of upto 1,000 words and receive AI-powered responses
Possesses the ability to process complex inquiries and retrieve information swiftly
Presents related results if a direct response to a query cannot be provided
Includes AI-enhanced features 'Chat' and 'Compose' in Microsoft's Edge browser
Offers Bing and Edge mobile apps for Android and iOS users
Price
No initial costs, 1,000 transactions per month are offered free of cost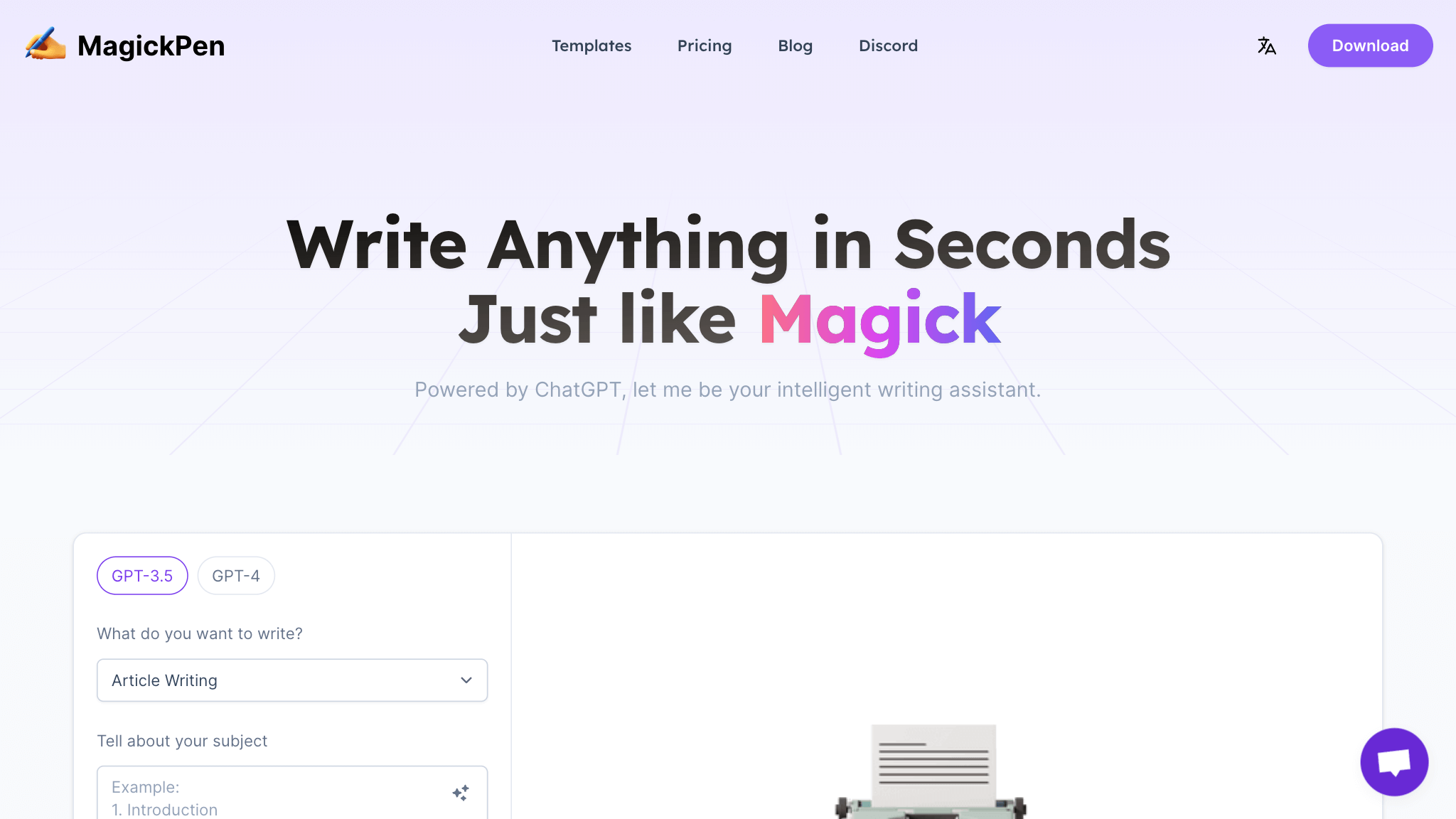 MagickPen is a fully integrated AI writing assistant engineered to streamline your writing process with astonishing simplicity and efficacy. Uniquely designed on the reliable platforms of ChatGPT, it offers diverse attributes like writing, translations, grammar corrections, and code repairs, serving as your ultimate AI powered writing assistant.
Features
Optimal Ease of Use: Simply input your subject matter and let MagickPen generate your content with ease, making a stress-free writing experience accessible to everyone.
Matchless Customisation: It flaunts refined settings for substantial customisation, including character description, language tone adjustment, length specifications, and more.
Enjoys a comprehensive free trial, allowing users to test its superior functions without any charges and offers varying payment schemes to suit diverse client preferences.
Extensive Variety of Templates: Boasting over 90+ templates spread across numerous sectors such as writing, education, employment, and lifestyle, MagickPen caters to all your writing necessities.
Cross-Platform Compatibility: Ensures flawless operation on all platforms including Web, Chrome, Windows, and Mac.
Price
Free: $0 offering a daily quota of 10 credits and up to 500 words.
Pro: Starting from $10 with up to 6,000 word generation capacity per use and customer support facility.
Subscription: $19 per month or opt for a yearly discount package, enjoy unlimited GPT-3.5 credits and 300 GPT-4 credits.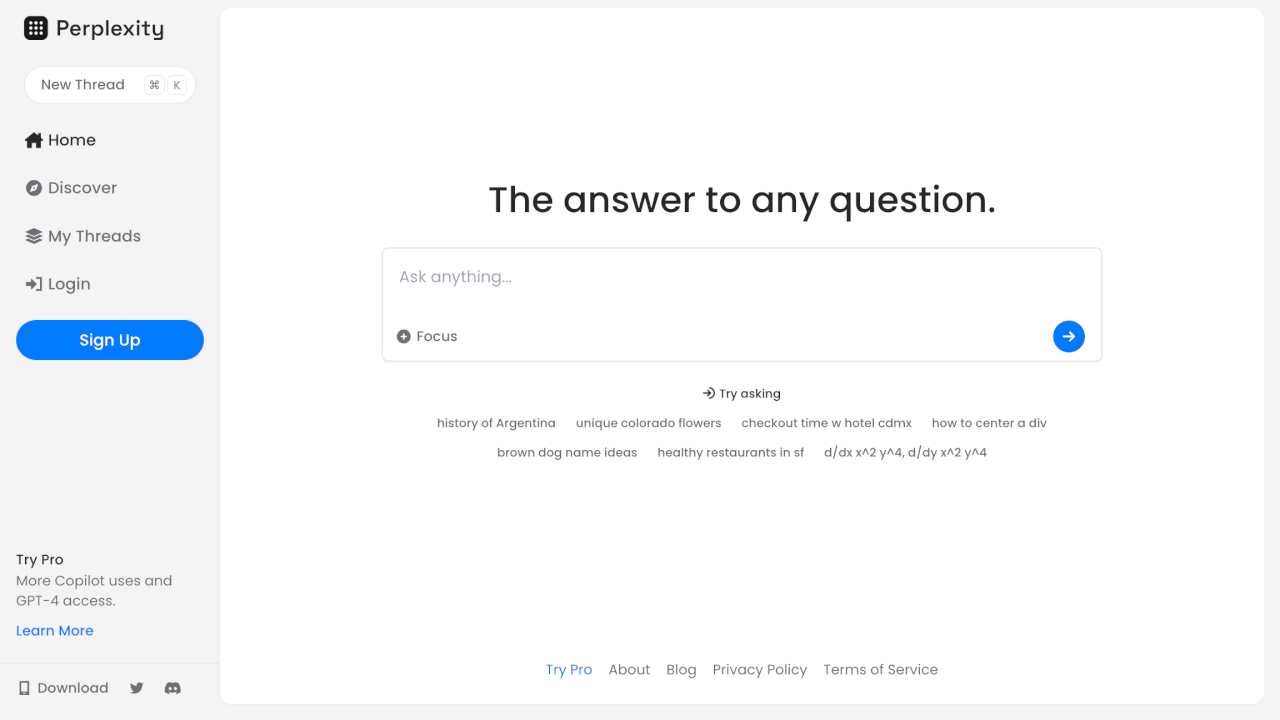 Perplexity AI is a comprehensive AI-powered chatting tool, a decent alternative to ChatGPT, that performs excellently by providing accurate and detailed responses. The website showcases a minimalist design, making navigation quite straightforward.
Features
Functions similarly to ChatGPT, supporting conversation sustainment and nuanced response provision.
Unlike ChatGPT, the AI in Perplexity cites the sources it uses for answering your inquiries.
Preserves originality. No exact content matching detected during source cross-checks.
Efficiently maintains conversation flow without expressing confusion.
Offers a GPT-4 powered co-pilot mode for complex inquiry handling and search precision improvement.
Boasts a user-friendly dark mode on the website.
Price
Perplexity AI doesn't cost anything and won't put users through account creation stress. So, you get to interact with this AI (akin to ChatGPT) freely while exploring some cited references.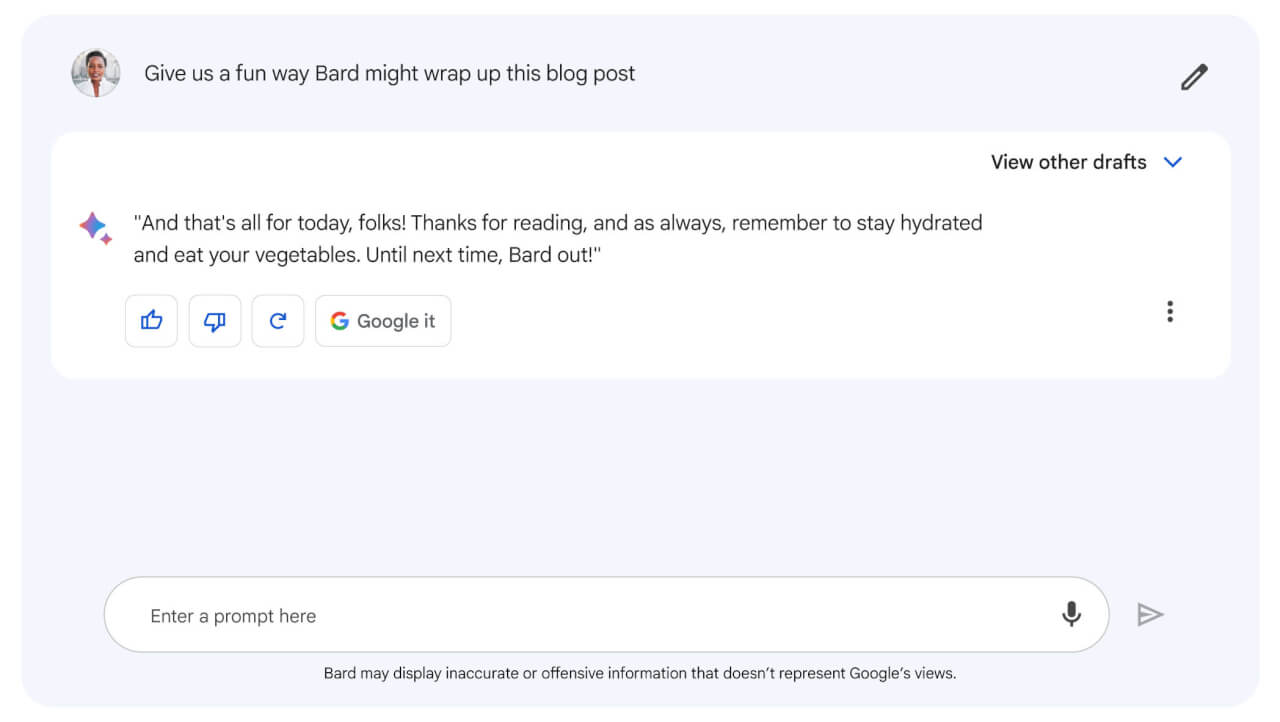 Bard AI is Google's latest innovation, an AI-powered chatbot akin to ChatGPT, which is built on the existing LaMDA AI platform. This cutting-edge conversational AI service promises to leave a significant imprint on the AI universe. LaMDA takes Bard's Natural Language Processing capabilities to the next level by allowing it to understand and respond to user inputs more accurately thereby breaking the barrier of data restriction to a specific year.
Features
Google claims that Bard can generate content-texts and answer inquiries
It is not confined to knowledge up to a certain year
This new conversational AI chatbot project by Google can also summarize texts
Price
Bard AI's pricing is yet to be announced by Google. Available for limited testing from February 6, 2023, it is expected to roll out more widely later this year.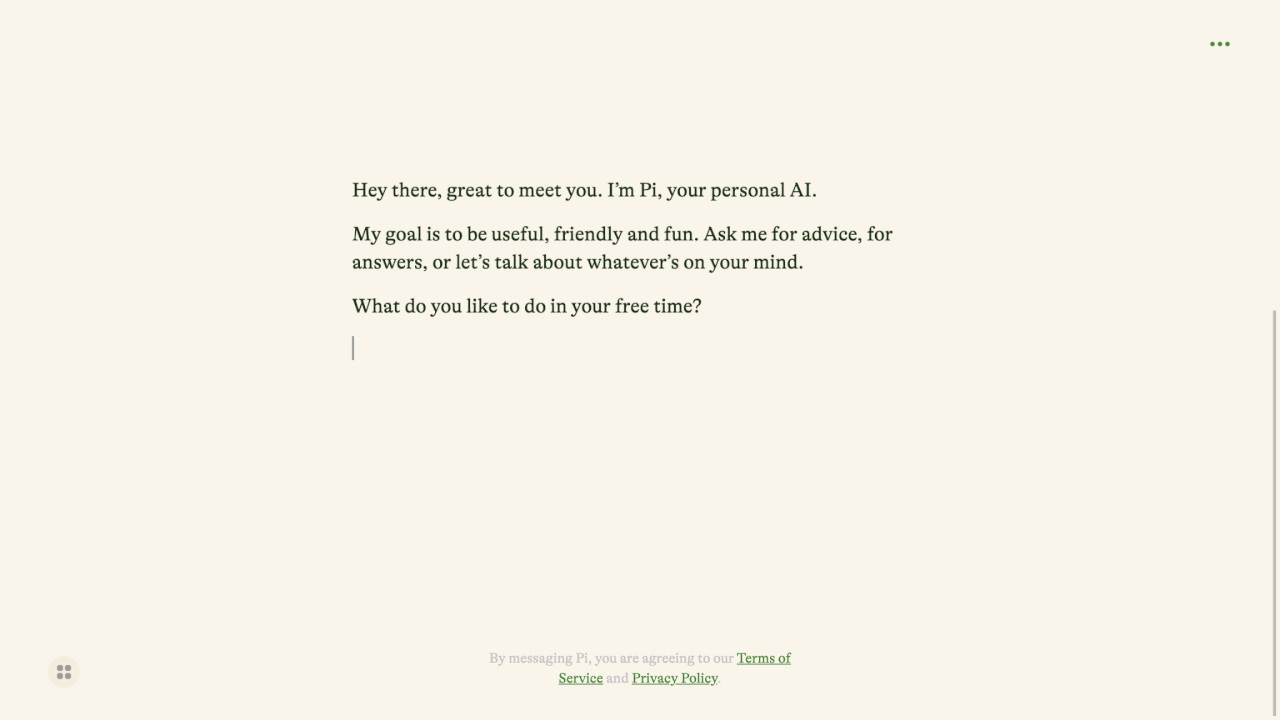 Pi is a unique AI chatbot and an alternative to ChatGPT that is tailored to provide a more interactive experience. Pi is not only a chatbot but a smart and supportive assistant as well.
Features
Engages in interactive dialogues instead of lengthy chats
As one of the few assistant tools that facilitate two-way communication, Pi allows its users to select from four different voices, each realistic and comforting
Pi initiates conversations and proves to be quite understanding and attentive to every message sent by the user
Provides comfort similar to a therapist
Requires a user account and a functioning phone number to sign up
Note: As Pi is quite the conversationalist, this chatbot could potentially be challenging to users who prefer less ongoing interaction.
Price
Information about the pricing structure for Pi's services isn't explicitly provided. Please visit the official website or contact their support team for details.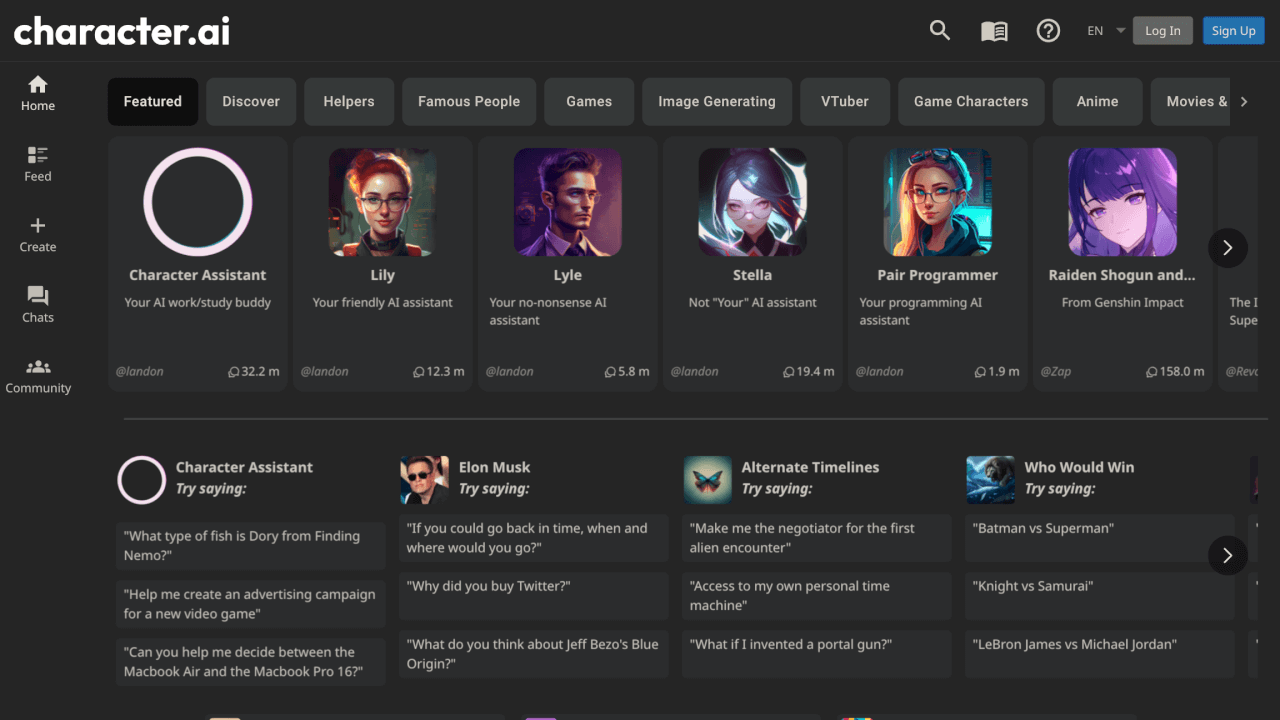 Character AI is an AI-centered platform designed specifically for delivering conversational experiences using AI characters. Similar to the personas feature in Chatsonic, Character AI totally focuses on AI personalities.
Features
Provides a fun-filled way to engage in random chats
Offers an array of personalities to chat with, ranging from real-life people to fictional characters
Constitutes a type of conversational AI chatbot based on neural language models, which brings a gaming aspect
Price
This AI tool can be used free of charge but it's mandatory to create an account with them; else, the chats will be locked after a limited number of messages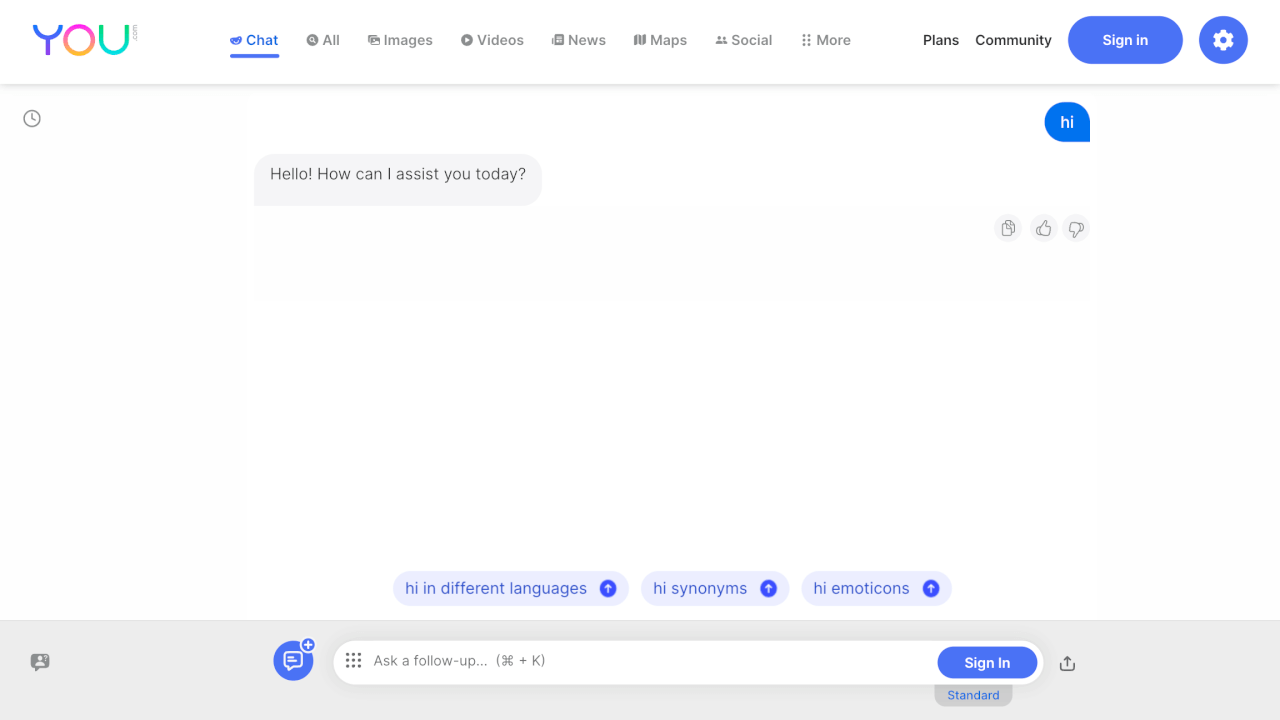 YouChat is an exceptionally robust AI chatbot similar to ChatGPT, integrated within a search engine of the same name. Infused with the essence of an enhanced large language model of ChatGPT, YouChat can maintain conversations while remaining online. Its internet connectivity ensures the bot stays informed with the latest news, ensuring it delivers correct responses both in the chat and alongside search results.
Features
User-friendly interface: You simply visit the chat page and enter your query to start the chat
Functions in a similar manner to ChatGPT, providing a range of information
Capable of writing code, offering advice, tackling complex concepts, summarising books and much more
While there might be infrequent technical glitches, the bot compensates for this with its updated info bank
Please note that the bot does not currently support microphone input, chat sharing, or personalized formats. Despite the absence of these features, YouChat stands out due to its up-to-date information platform.
Price
YouChat is entirely free of cost. Visit the website to start chatting.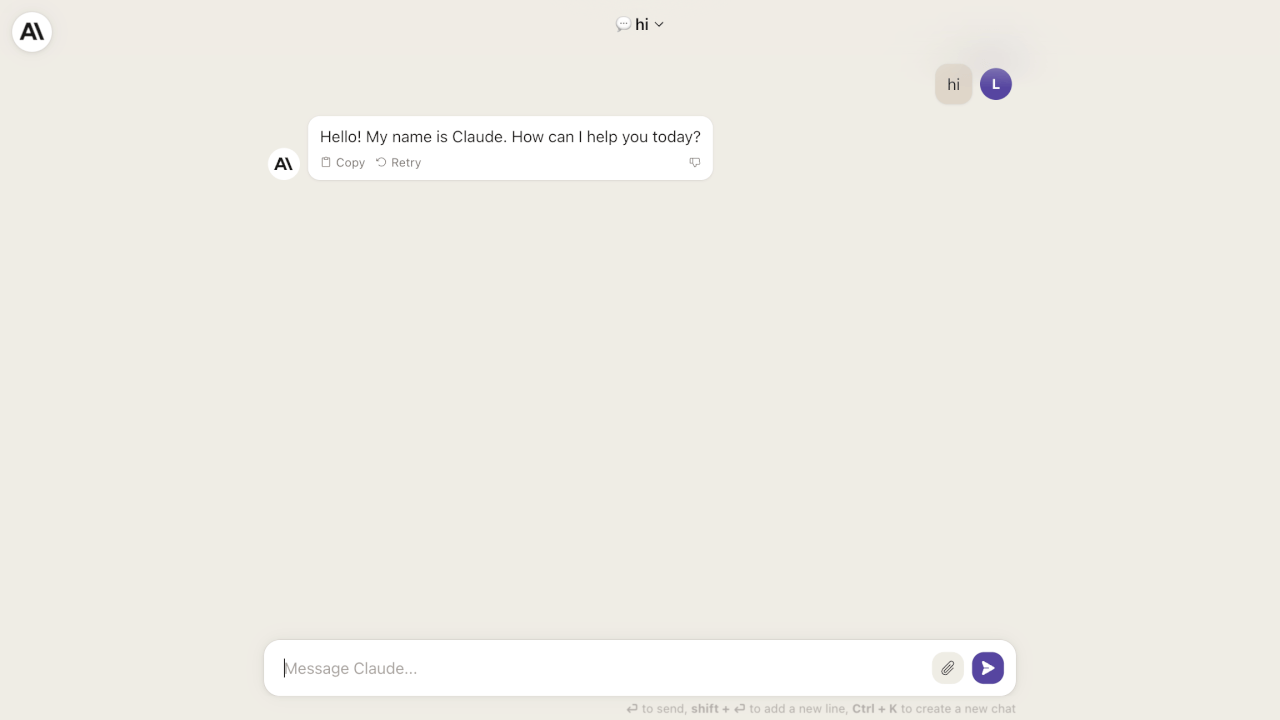 Claude is a versatile AI companion emerging from Anthropic, tailored to aid you in various text-oriented and conversation-based tasks. This alternative to ChatGPT is an embodiment of Anthropic's devotion to producing intelligent systems that encapsulate the essence of utility, honesty, and safety.
Features
You can access Claude through a user-friendly chat interface or the developer console API to ensure a smooth experience for different demands
Quickly summarizes large amounts of text
Can search for information with unforeseen accuracy
Acts as a creative AI collaborator on writing projects
Pricing
Claude Instant: $1.63 per million tokens for initiation and $5.51 per million tokens upon completion
Claude Comprehensive: $11.02 per million tokens to start and $32.68 per million tokens upon termination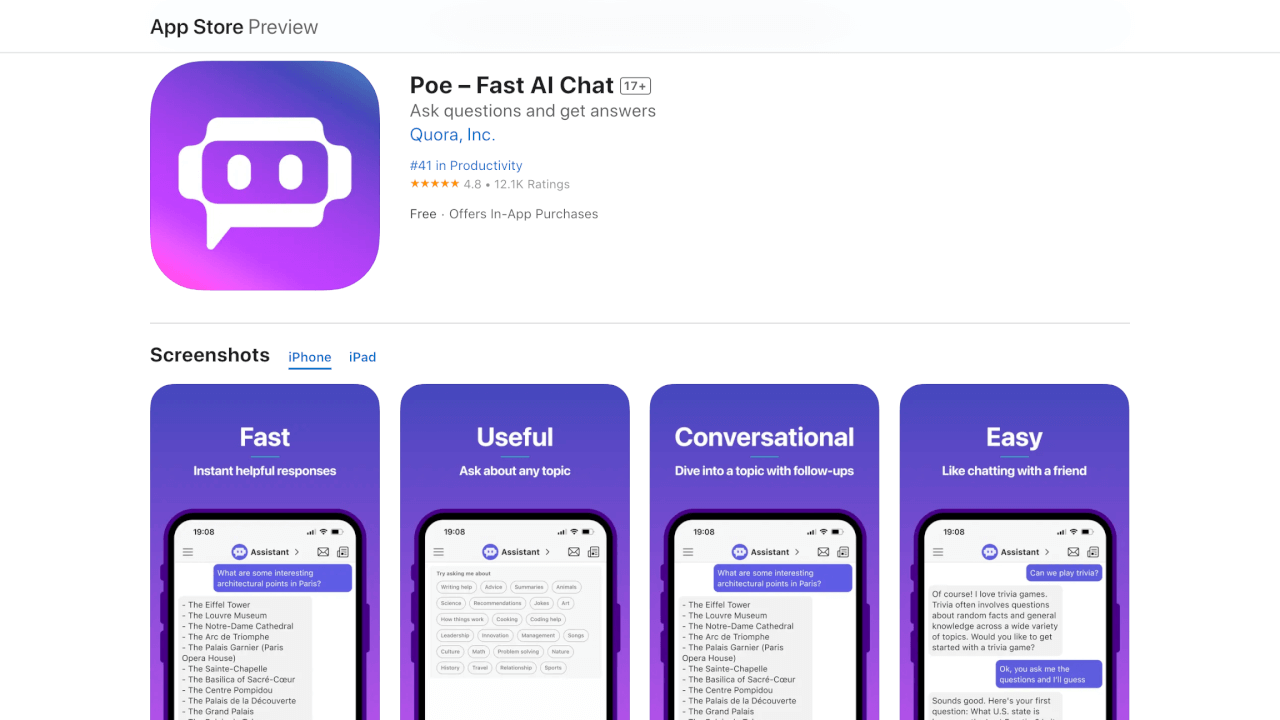 Quora Poe, introduced in 2023, is a platform for open exploration (POE), enabling interactions with various AI chatbots rather than being an AI itself. Users can engage in AI-mediated discussions, ask questions, and receive immediate responses.
Features
Allows interactions with multiple AI chatbots, including Sage, ChatGPT, Dragonfly, and even GPT-4 and Claude+
Does not use Quora's question-answer data
Ensures minimal downtime for seamless discussions with AI bots
Requires a single account creation for access to all services
An iOS app is provided, but there is currently no Android version
Price
The monthly subscription service costs $20, accessible only on the mobile app, and permits more extensive communication than the free version.
Offers a yearly subscription option for a discounted rate of $200
Monthly interactions include a limit of 300 for GPT-4 and 1,000 for Anthropic's Claude AI chatbot with the subscription, exceeding the limit may lead to reduced-quality interactions from the AI.
Sage, Dragonfly, ChatGPT, and Claude's previous version still have unlimited free access without the need for a subscription.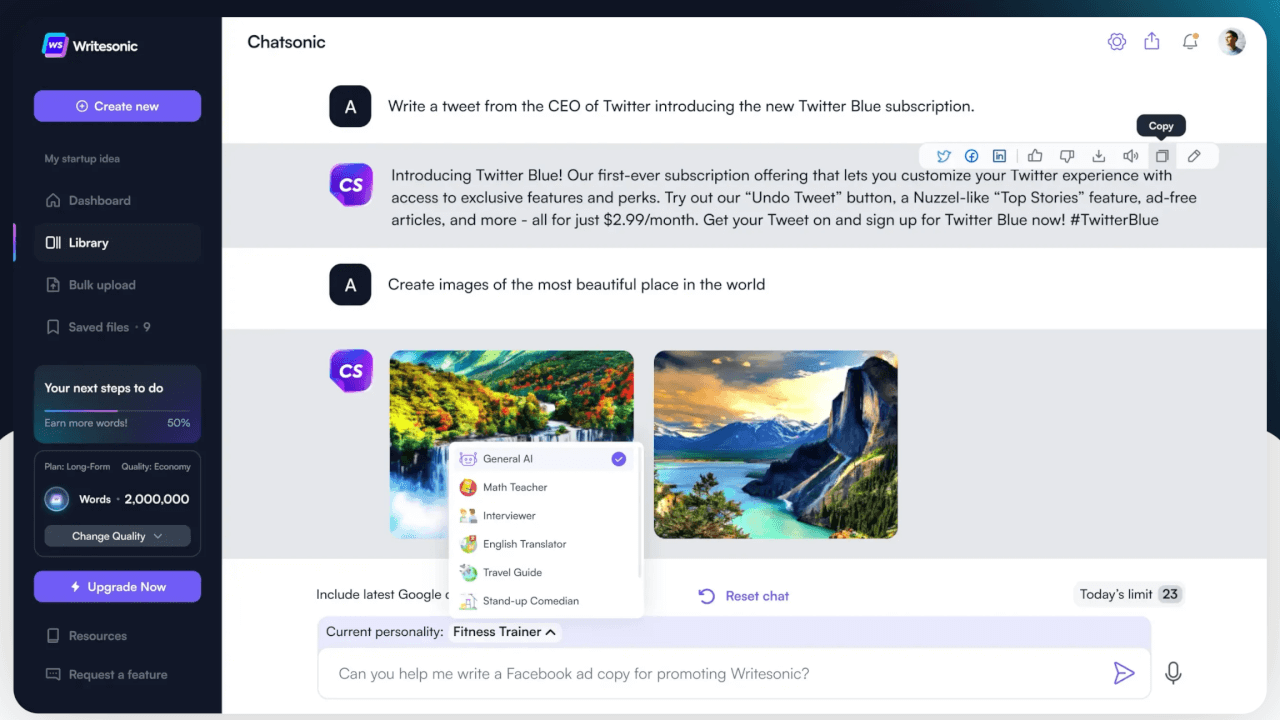 Chatsonic is a prevalent ChatGPT alternative backed by a plethora of added features and a wider knowledge base due to the AI chatbot's ability to access the internet.
Features
Can accurately provide answers by utilizing internet results
Has a memory feature that references past conversations to maintain a consistent conversation flow
Offers 16 separate personas that range from accountants to poets
Has a voice recognition system allowing you to interact with the AI using your microphone, similar to Google Assistant and Siri
Provides the option to convert the conversation into shareable links or Word/PDF documents
Equipped with an in-built image generator that can produce pleasing visuals based on given prompts
Price
Offers 25 free generation per day
Additional generations can be purchased using your Writesonic word balance
For more extensive use, a long-form plan starting at $12.67 per month is available