10 Best AI Face Swap Tools in 2023
lvwzhen
Tuesday September 19th, 2023
AI has taken over various aspects of our lives, including fun tools like AI face swap. Utilizing advanced algorithms and computer vision, you can switch faces with anyone, via a picture or video, using apps like DeepSwap AI.
Ever thought about how you might look swapping faces with a celebrity or a favorite character? Perhaps you've wanted to prank friends with amusing face swap photos? If so, you'll find DeepSwap AI apps fascinating.
DeepSwap AI employs AI to swap faces in visual content. It can detect and replicate facial features, resulting in a believable face swap. Use these tools for fun, amusement, or creativity.
Let's dive into the best AI face swap tools available today in this article.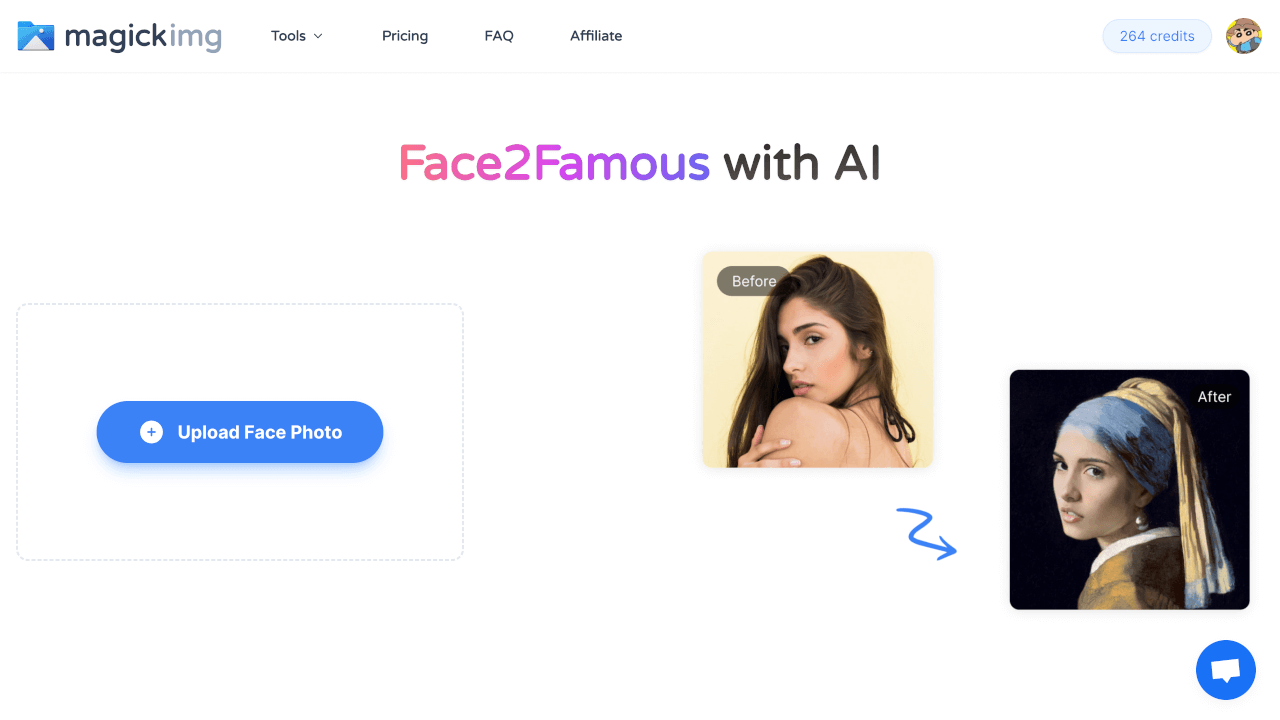 Magickimg's Face2Famous is an AI enabled platform that transforms your face into iconic figures and artworks, creating a fusion masterpiece.
Features
Provides support for both JPG and PNG image types
Lets you choose from an array of timeless art pieces or legendary figures
Uses AI to blend your face with your selected figure or artwork
Allows you to download and share your transformed portrait
Process
Upload: Capture your best angle and upload it to Face2Famous
AI Transforms Photo: Choose your preferred art piece or figure. Watch as AI creates a magical fusion of your face with it
Download: Marvel at your transformed portrait and share this unique blend with the world
Price
Free: $0 for 5 credits a month;
Subscription: $2.49/month for 50 credits a month;
Pay as you go: $5 for 50 credits
2. Deepswap
Deepswap is a revolutionary AI-powered tool, advancing the art of face-swapping beyond images to videos and gifs.
Features
Offers compatibility with a variety of media formats, including images, videos, and gifs
Provides a user-friendly interface that simplifies the creation of deepfakes
Boasts precise output and remarkable accuracy in face swapping
Offers cross-platform support, functioning seamlessly on both desktops and mobile devices
A free-to-use online application, offering greater cost efficiency
Deepswap transforms the way we perceive the realm of deepfakes, making it possible for anyone to adopt the persona of a famous actor in iconic movie scenes. The only prerequisites are a selfie and a video clip of your choice. Deepswap distinguishes itself in the market with its incredible accuracy, making it a preferred AI-powered tool for creating accurate and compelling deepfakes.
3. Fotor Deepswap AI
Fotor Deepswap AI is an online tool that leverages AI and deep learning techniques to generate realistic and enjoyable face swaps for users.
Features
Allows one to select from a plethora of pre-made face filters or create their own custom ones
Gives the ability to swap faces with celebrities, animals, cartoons, emojis, etc
Offers smooth and lifelike face swapping effects with minimal latency
Lets you share your face swap videos on social media platforms or save them on your device for future use
Price
Pricing details for Fotor Deepswap AI are not provided. Please visit their website for more details.
4. Icons8 FaceSwapper
Icons8 FaceSwapper is an AI-powered tool that is totally free of charge and designed to simplify the entire face swapping process. This striking application allows users to seamlessly exchange faces with any chosen individual, ranging from famous personalities to close friends or family members.
By employing cutting-edge facial recognition technology, Icons8 FaceSwapper produces spectacularly realistic face swaps that will leave a lasting memory. Any user aiming to add a unique spin to their photo collection would find this software an engaging platform to explore the infinite potential of face swapping.
Features
Offers a user-friendly interface which makes the face swapping process uncomplicated and intuitive
Provides versatility by allowing face swapping with a broad spectrum of individuals
Uses technologically advanced and sophisticated facial recognition for accurate face swaps
Achieves remarkably realistic and visually eye-catching face swaps
Available for free use
Price
The Icons8 FaceSwapper tool is available to users free of charge
5. Swapface
Swapface is a leading-edge AI face-swapping application that redefines digital engagement. By downloading the software at www.swapface.org and following a few simple instructions, users can instantly immerse themselves in the face-swapping realm.
Features
Offers a modern, intuitive interface designed for ease of use
Ensures smooth integration with virtual cameras like Unity and OBS
Can produce real-time deepfake content for numerous live streaming platforms, such as Skype, Zoom, Teams, and Meet
Provides highly realistic AI-generated deepfakes identical to original footage
Most loved app among streamers due to its advanced features and lifelike output
6. Pixble
Pixble is a super advanced AI-based face swapping tool, recognized for its precision and compelling deepfake images.
Features
It makes use of artificial intelligence to identify faces in pictures and map facial details to swap other faces of user's choice automatically.
High-level precision due to its 3D representation feature that makes face swapping appear more realistic.
Capable of handling angled or sideways photo shots to deliver convincing results.
Price
While Pixble does offer some features for free, certain advanced capabilities require payment. Pricing details have not been specified and could vary based on the results obtained.
7. DeepAR
DeepAR, where AR stands for Augmented Reality, is a tool designed to augment your interaction with the real world in fascinating new ways. It features a face swap tool powered by AI that enables you to exchange faces with others in real-time for fun, unexpected results.
Features
Allows you to easily switch faces with your friends without needing to add any pictures or video
Includes an AI-driven emotion detector, filters, and a hair color changer
Soon to add an AI-based body tracking feature
Offers virtual try-on features for shoes, watches, and jewelry
Boasts an AR-enabled video call feature, revolutionizing the e-commerce experience
Price
Contact the DeepAR team for pricing information.
8. FaceHub
FaceHub is a user-friendly AI application intended to enable face swaps in images and videos. It permits the users to upload their images and choose a model for face swapping from an array of options.
Features
Incredibly simple to use, letting you easily swap faces with selected models
Offers the ability to upload another image instead of choosing a model
Provides two modes for use: Fast mode and Pro mode, each with slight variations
Results can range from amusing to downright peculiar
Outputs images with a watermark in its free version
Access to more models and superior image quality on paying
Price
Free: Accompanied by watermarked images
Premium: Grants access to an enhanced selection of models and produces higher-quality images. The price detail is not provided, users have to enquire for it.
9. FaceMagic
FaceMagic is an accessible AI-powered tool, available on iOS and Android, that effortlessly facilitates face swaps in videos and photos. This enables you to inject creativity into your social media content with only a few taps.
Features
Presents a user-friendly interface for easy face swapping
Multi-platform support: Available on both iOS and Android platforms
Provides versatility by allowing you to swap faces with famous actors
Effortlessly allows sharing of creations directly from the app via its AI functionalities
Price
Please contact the provider for pricing information.
10. Picsart
Picsart is a innovative image editing platform that integrates advanced AI capabilities to take editing a step further.
Features
Comes with an AI-enhanced tool that uses inpainting technique for selective area replacement.
Enables quick and precise photo alterations.
Allows a variety of edits such as face swapping, hair color changes, and object manipulation.
Advanced features and tools are available in the premium Picsart Gold version.
Provides a 7-day free trial of Picsart Gold for new users to experience its vast range of capabilities.
Price
Basic Toolset: Free
Picsart Gold: For advanced options and creative tools, they offer a seven-day free trial, followed by a price which is available upon contacting their sales team.