10 Best AI Transcription Tools in 2023
lvwzhen
Saturday August 5th, 2023
Does transcribing audio feel like a tedious, time-consuming task? Say goodbye to transcription headaches and let artificial intelligence (AI) lend a hand.
AI-powered transcription tools use natural language processing (NLP) to automatically convert audio and video into text. This transforms the way you create transcripts for podcasts, videos, meetings, and more.
With AI transcription, you can:
✅ Save hours of manual work. AI tools transcribe audio faster than you can type.

✅ Increase accuracy. AI transcription learns over time to become more precise.

✅ Search transcripts easily. AI makes the text searchable, allowing you to quickly find what you need.

✅ Collaborate with ease. Tools like timestamps and comment features facilitate teamwork.

✅ Access transcripts anywhere. Many AI services work across devices like desktop, iOS, and Android.
Here are the top 10 AI transcription tools to boost efficiency:
Otter.ai utilizes advanced speech recognition technology and natural language processing to generate automated transcripts from audio conversations, meetings, interviews, lectures, and more. Otter offers users the ability to easily record conversations from their phone or computer and upload audio or video files to automatically transcribe them.
Features:
Auto meeting transcription
Mobile app
Searchable transcripts
Sharing and collaboration
Pricing:
Starts free
Pro: $8.33/month
Business: $20/month
Trint is an innovative automated transcription service that can quickly convert your audio and video files into editable, shareable transcripts using AI. It is designed to make it easy for podcasters, vloggers, journalists, and other creative users to transcribe their content.
Features:
30+ languages
Subtitle creation
Integrates with Zoom & iPhone
Pricing: Starts $60/month
Sonix utilizes advanced AI and speech recognition technology to provide fast and accurate transcription services in over 35 different languages. It enables users to easily upload audio or video files, which Sonix can transcribe within minutes.
Features:
Lightning fast transcription
Speaker labeling
Collaborative transcripts
Works with popular platforms
Pricing: Starts at $10/hour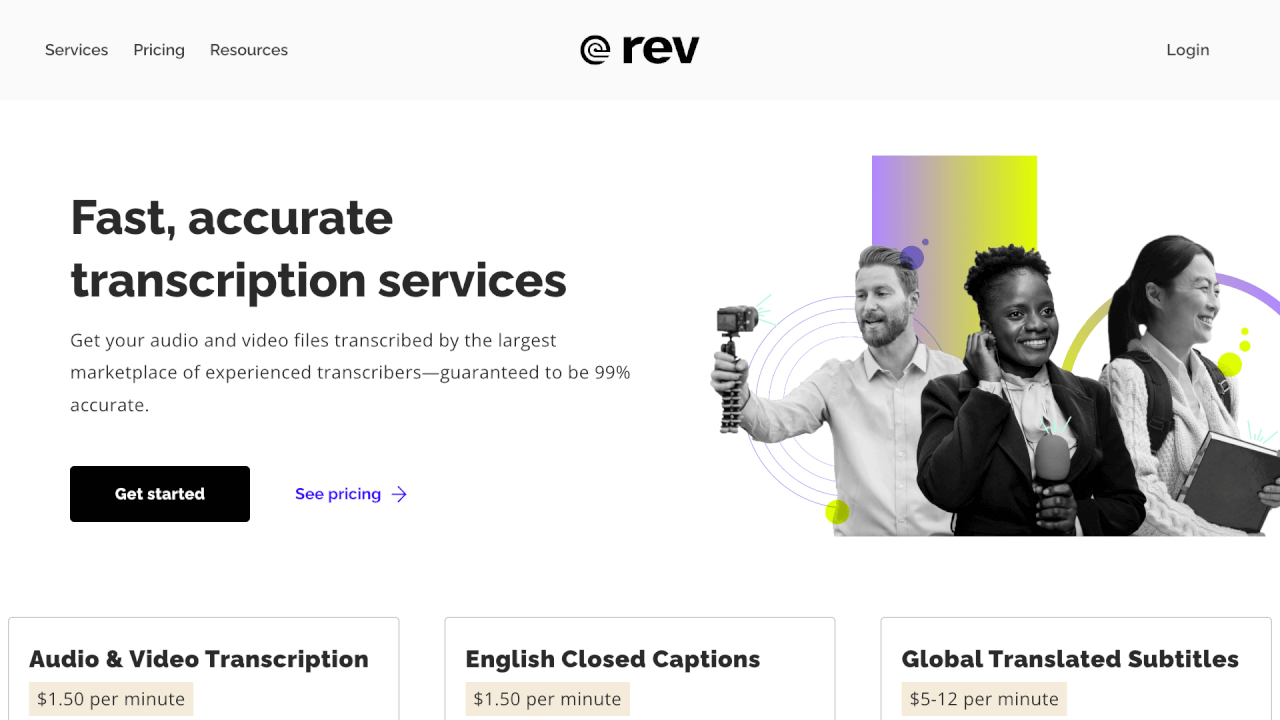 Rev is a leading provider of transcription services that offers both AI-powered automated transcription as well as human-generated professional transcription. Rev can transcribe audio and video files quickly and accurately in over 30 different languages.
Features:
Automated + human transcription
Global translation
Zoom live captions
Fast turnaround
Pricing: $29.99/month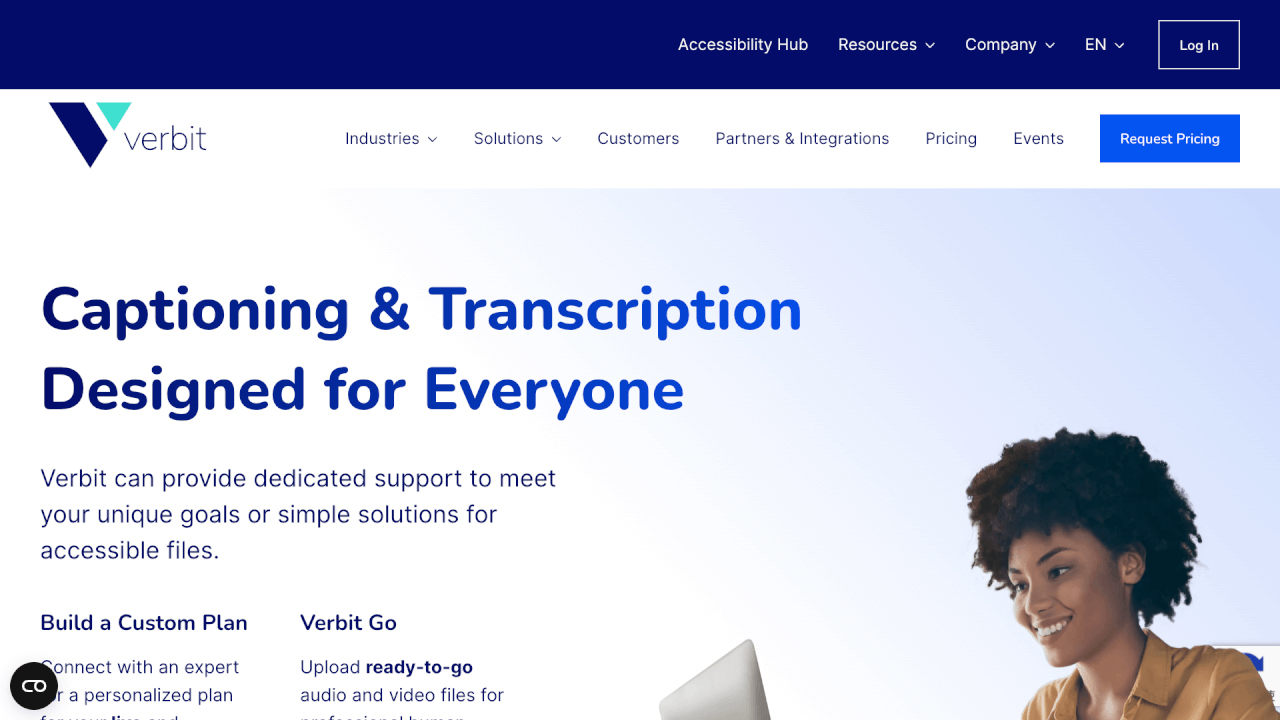 Verbit is an AI-powered transcription platform that combines artificial intelligence technology with human transcribers to deliver highly accurate transcribed documents, captions, and subtitles.
Features:
Live captioning
Translation services
Custom templates
Works with many platforms
Pricing: Custom quotes
Scribie provides affordable automated transcription services combined with human proofreading and editing to guarantee 100% accurate transcript results. Scribie's AI transcription engine can transcribe audio quickly and cost-effectively.
Features:
100% accuracy guaranteed
39+ languages
Audio editor built-in
Text formats supported
Pricing: $0.10/minute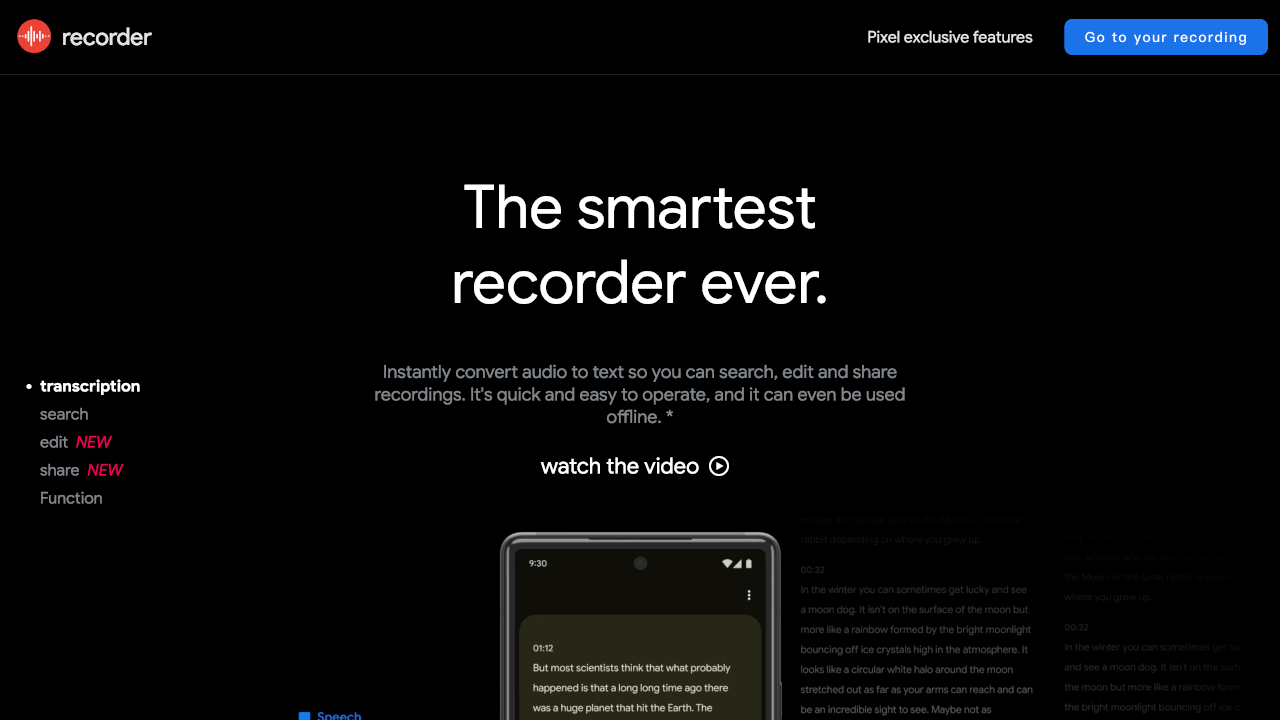 Google's free Recorder app for Pixel phones provides a quick, easy way to transcribe audio recordings using decent quality AI-powered transcription. While limited to Pixel devices, it offers useful features.
Features:
Totally free
Easy to record and edit
Share text or audio
Pixel phone exclusive
Pricing: Free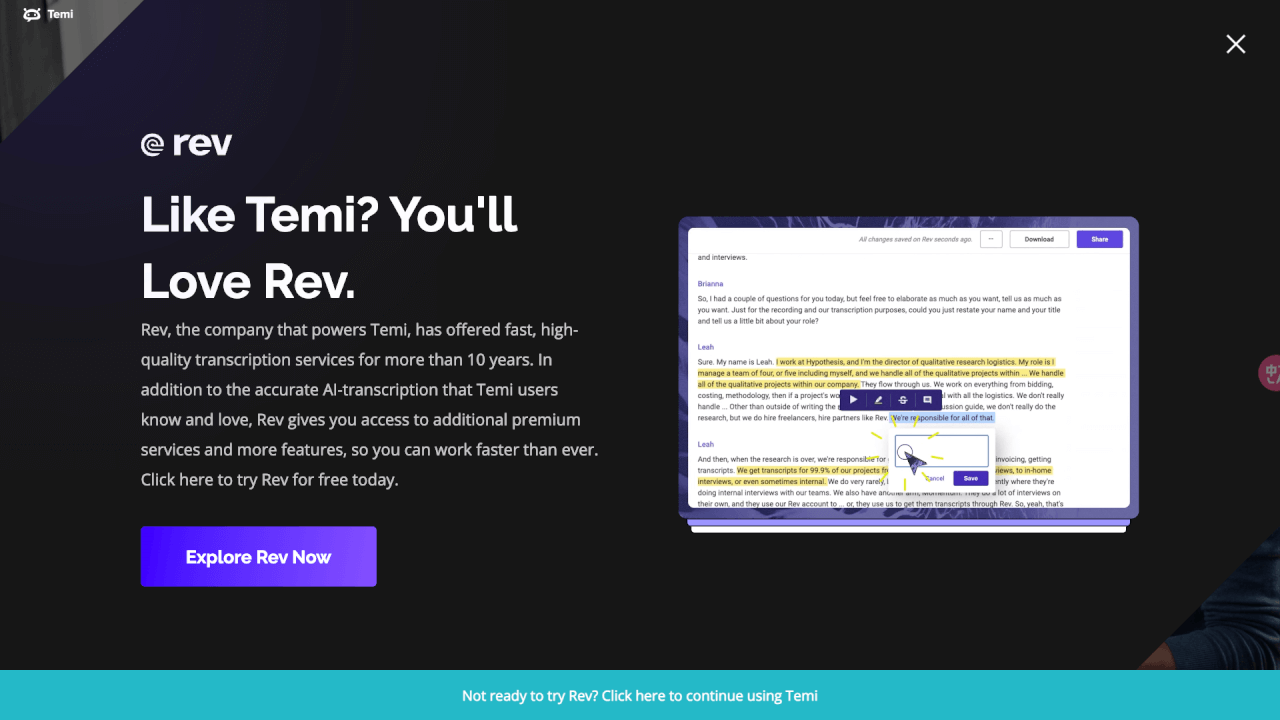 Temi is an automated transcription service that uses advanced speech recognition technology to generate transcriptions incredibly fast, often within 5 minutes or less. It adds useful elements like speaker labels and timestamps.
Features:
Transcripts in 5 minutes
Audio editor included
Exports text to formats
Add timestamps
Pricing: Starts at $0.25/minute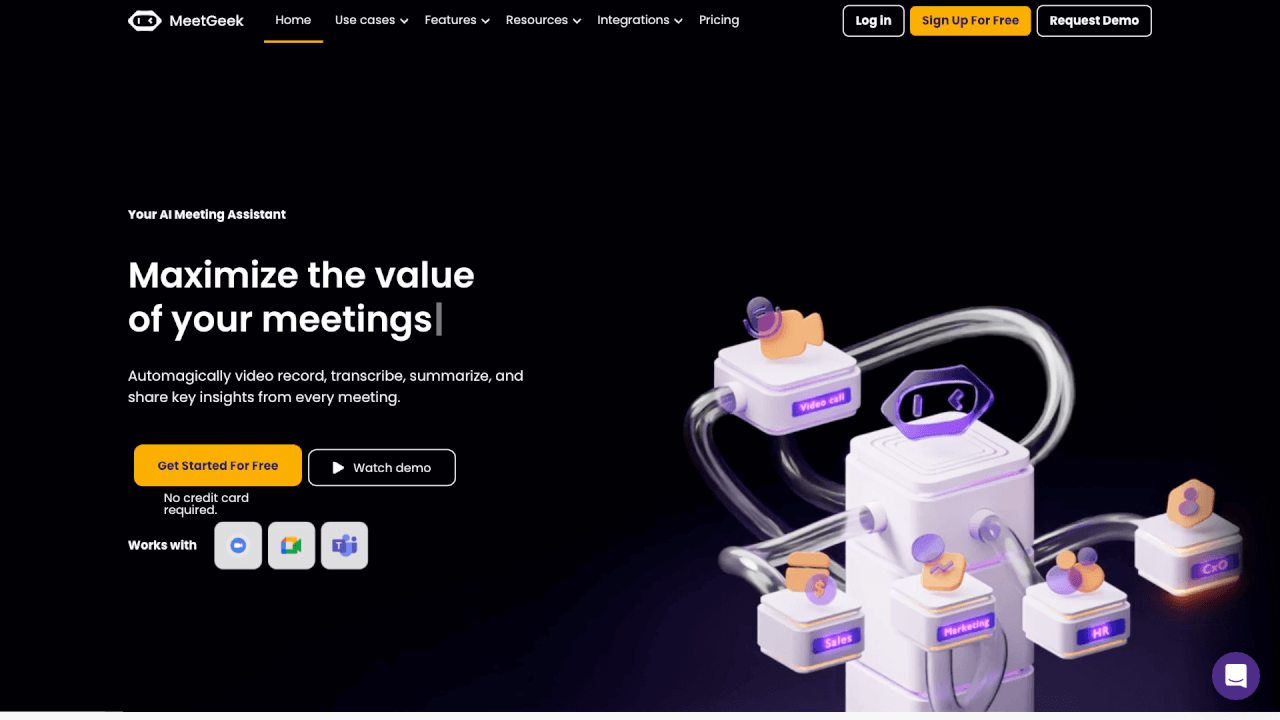 MeetGeek is an AI-powered meeting assistant that helps you automatically record, transcribe, and analyze your meetings. It also provides useful voice automation capabilities.
Features:
20+ languages supported
Generate summaries
Integrates with video platforms
Voice commands
Pricing: $19/month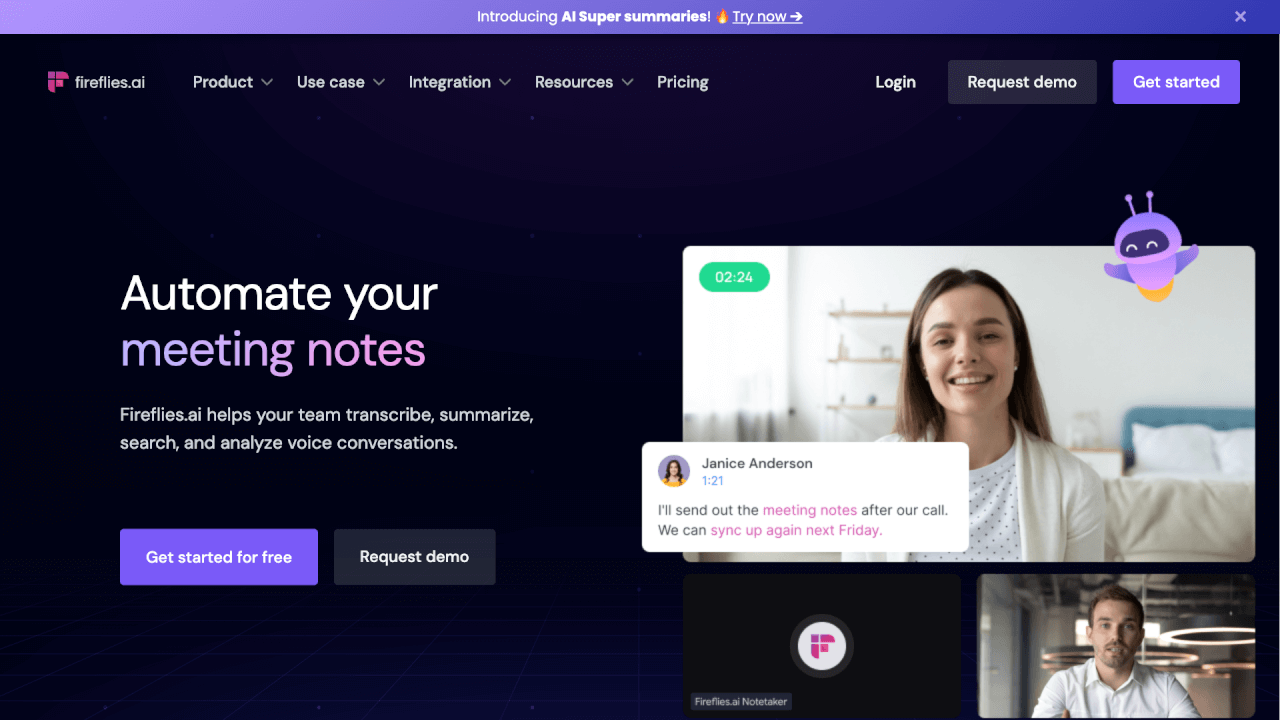 Fireflies.ai is an AI meeting assistant designed specifically for transcribing meetings, generating summaries, and enabling advanced collaboration. It uses AI to produce highly accurate meeting transcripts.
Features:
90% accuracy
Collaborate via threads
50+ integrations
Highest security
Multi-language
Pricing: Starts free
Bring the power of AI transcription into your workflow today with these top-rated tools! Say goodbye to manual drudgery and harness artificial intelligence to save time, increase accuracy, and collaborate better.