10 Best AI Chrome Extensions in 2023
lvwzhen
Thursday July 27th, 2023
A Chrome extension, enhanced by AI, can supercharge your browser's capabilities, making you more efficient. If you're overwhelmed by countless tabs or tired from constant task-switching, then it's time to check out AI extensions that smarten up your browser.
Here are the top 10 AI-boosted add-ons that not only save time but also make your digital workspace stress-free. But how can you choose the right AI Chrome Extension?
At their core, AI tools tackle tasks from the simple to the complex, like finding mistakes, drafting text, and summarizing content. They're designed to make your work a breeze.
The ideal AI Chrome extension should be tailored to your role. For instance, if you're a project manager, you'd want an extension that excels in jotting notes, whereas developers would need AI tools for coding.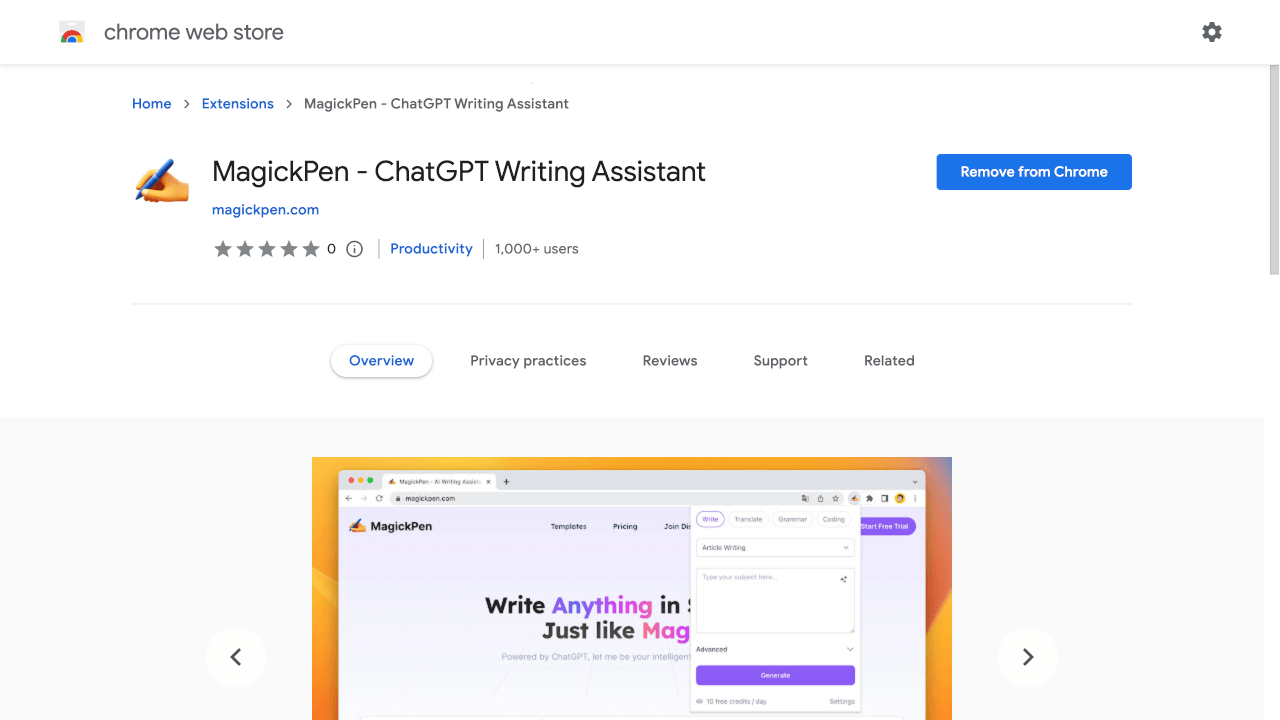 MagicPen is your all-in-one AI writing tool, designed to make writing easier. It's based on trustworthy ChatGPT technology, and brings together many functions including writing, translating, grammar checking, and code fixing. It's the perfect AI support for all your writing tasks.
Features
User-Friendly: Just input what you want to write about and MagicPen will automatically create top-quality content.
Highly Customizable: Choose from different customization features like character description, changing the language tone, and setting the content length.
Free Trial: Try out MagicPen's high-end features with a complete free trial.
Wide range of Templates: We offer more than 90 templates that cover areas such as writing, education, work, and lifestyle.
Price
Free trial: 10 trial credits per day
Pro: Flexible choices of 100, 300, and 1000 credits, without time limits
Subscription: $29 a month for unlimited points
Education discount: 40% off with edu email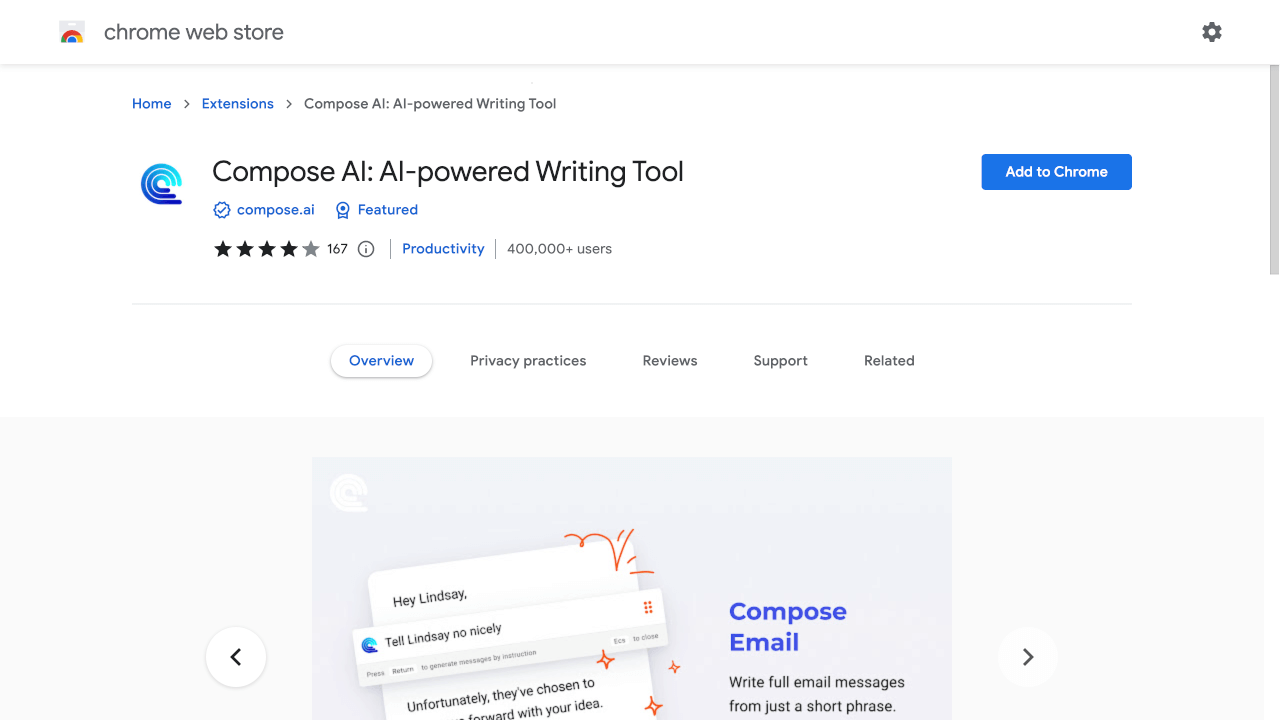 Compose AI is an all-in-one AI Chrome extension designed to accelerate and automate your writing. With AI-powered text generation and auto-completion, this extension reduces writing time by 40%.
Features
Generates text with the convenient command of "//"
Capable of crafting content in various formats such as emails, blog posts, website copies, and research topics.
Comes with an autocomplete feature that helps combat writer's block, by displaying suggestions as you type.
The extension can efficiently draft professional email replies with one click, referencing the previous email thread and only requires a few additional words from you— making email response more manageable.
Comes with personalization features that adapt to your tone of voice, providing context-aware suggestions, and gradually understanding your writing style and platform.
Highlights part of your sentence and prompts AI suggestions for rephrasing or editing, providing creative inspiration.
Price
Free: $0 per month
Premium: $9.99 per month
Ultimate: $29.99 per month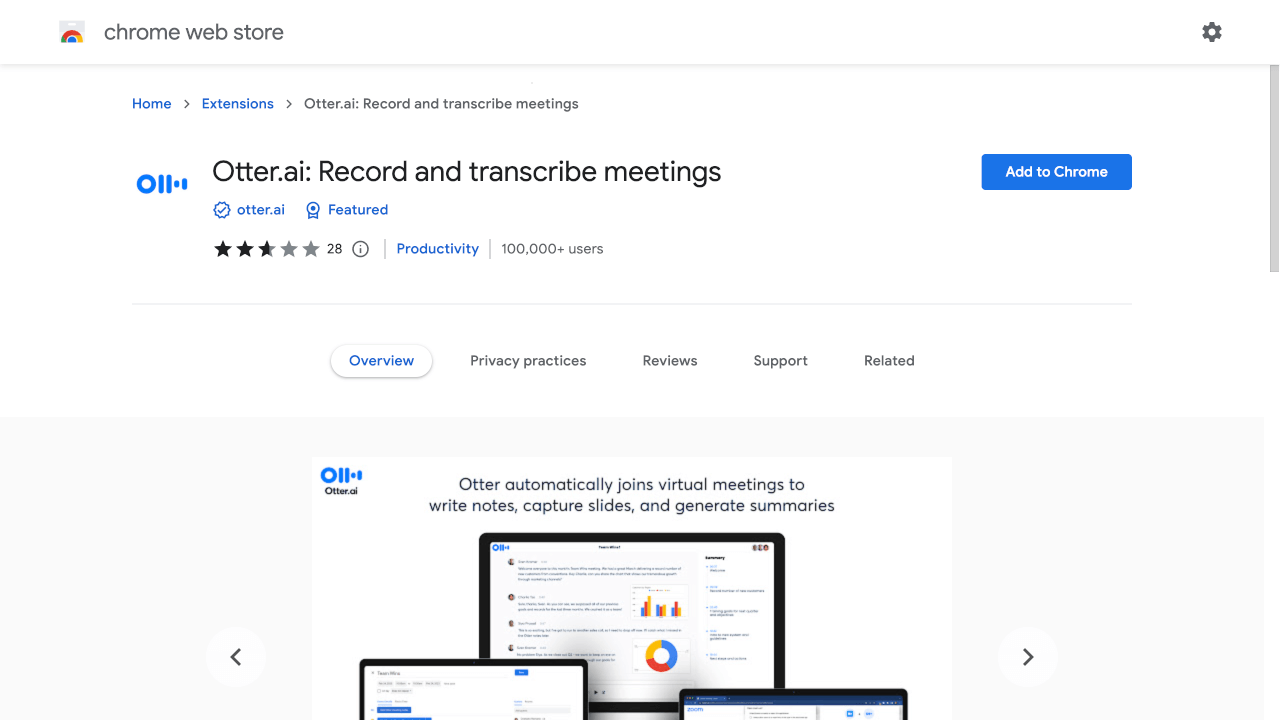 Otter.ai is a transcription app, equipped with an AI chatbot, designed specifically for meetings. It's ideal for transforming audio content to text, making it perfect for lectures, client calls, and team meetings.
Features
Able to attend Zoom or Google Teams meetings, functioning like another participant
Embedded AI chatbot that's capable of answering questions in real-time during meetings
Allows team members to collaborate live, highlight key points in the transcript, add comments, and assign tasks
Chrome extension to join or record Microsoft Teams, Zoom, and Google Meet meetings automatically when linked with Microsoft or Google calendar
Available on web, Android, and iOS platforms
Generates automated meeting summary and e-mails it to attendees
Ability to transcribe audio from team meetings into written meeting minutes
Automatic slide capture to supplement meeting notes
Use of the Otter.ai chatbot for Q&A and assistance during meetings
Price
Free
Pro: $8.33 per user per month
Business: $20 per user per month
Enterprise: Contact their support team for a quote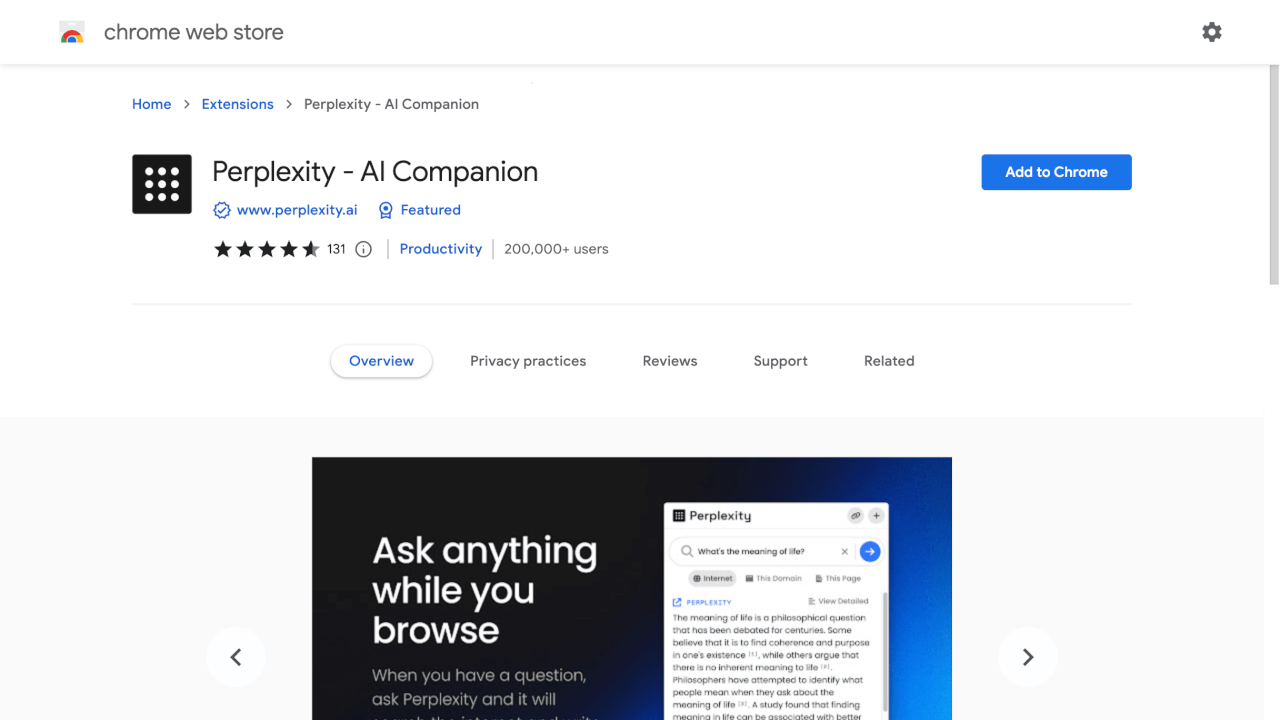 Perplexity AI is a comprehensive AI Chrome extension combining ChatGPT and the prowess of Google. Users can pose questions, and Perplexity AI delivers quick responses by scanning the internet.
Features
Fully AI-aware search engine integrating the capabilities of GPT-3 LLM with internet accessibility
The ability to interpret selective content like a webpage or complete websites
Can swiftly skim through a lengthy article and manage queries about it
Distinguishes itself from ChatGPT by generating domain-specific responses by citing various web pages from the identical domain
Able to exhibit related queries to your question, promoting exploration and providing further insights about your query
Allows for answer sharing across multiple platforms (such as Facebook, Twitter, and WhatsApp) or via a link
Offers an enhanced version of the extension powered by PGT-4, delivering answers to even more complicated queries
Accessible on mobile devices (available for both iPhone and Android)
Price
Contact Perplexity AI for quotes on their pricing plans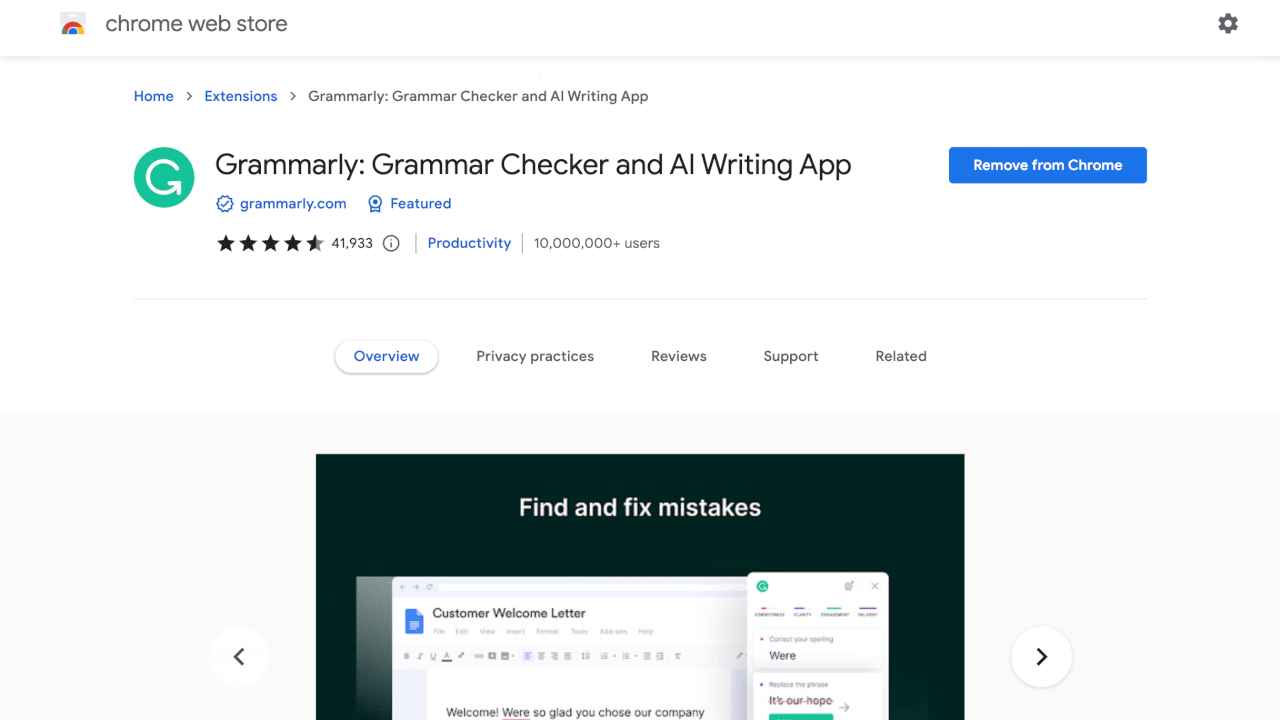 Grammarly is a top-rated Chrome extension used by writers, marketers, educators, businesspeople, startups, and students for grammar checking. It enhances your writing and communication by checking grammar, spelling, and punctuation, and providing feedback on clarity and style.
Features
A vital tool for content writers, marketers, business professionals, educators, startup owners, or students who want to ensure their content is grammatically correct.
This Chrome extension not only checks grammar and spellings but also punctuation, providing comprehensive feedback on the clarity and style of your content.
In addition to correcting spelling mistakes, Grammarly can rewrite sentences for consciousness and clarity, enabling the user to produce content that resonates with the audience's tone.
GrammarlyGO, Grammarly's AI-powered assistant, provides help with the rewriting large sections or prompts the AI chatbot to create text for you.
The extension highlights areas of improvement in the content by adding color-coded underlines.
The tool has a plagiarism checker to ensure your work is unique.
Price
Free
Premium: $12 per month
Business: $15 per member per month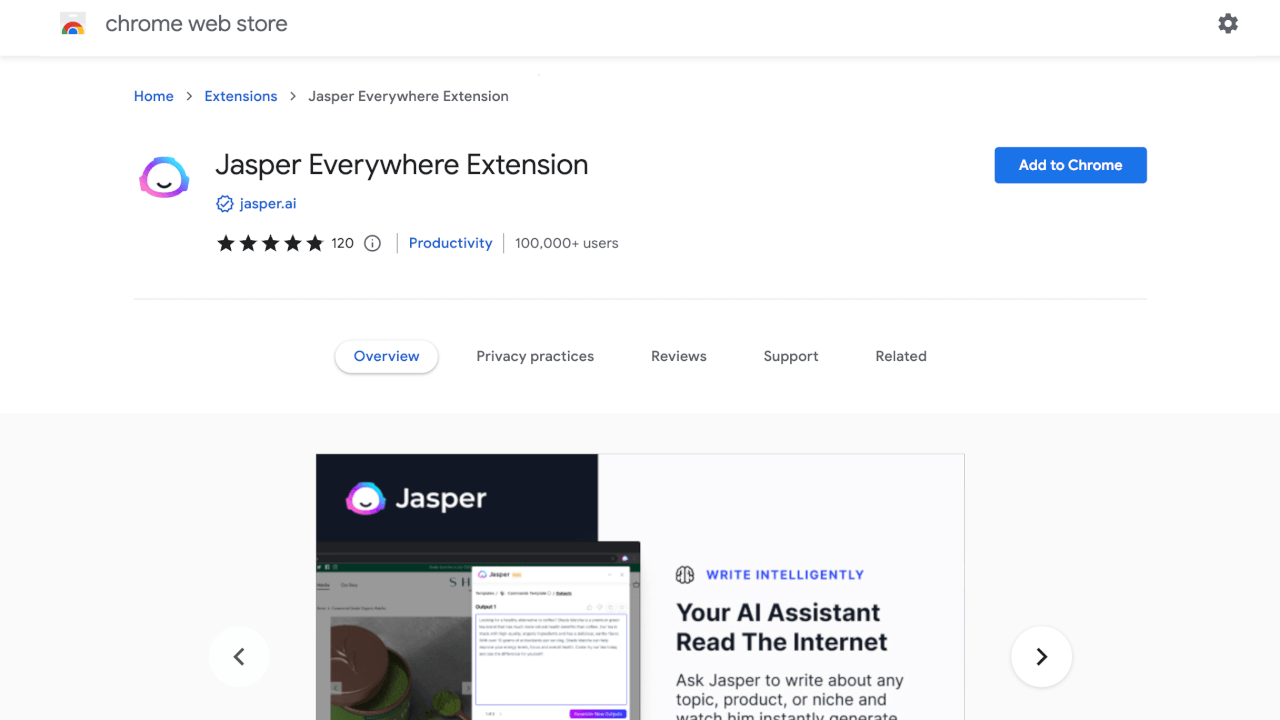 Jasper is a comprehensive AI writing assistant built to streamline content creation by generating high-quality output based on the key details you provide about your selected topic.
Features
Integrates a paraphrase feature for those looking to restructure specific sentences
Allows for plagiarism and grammar checks
Provides assorted templates suitable for varying writing scenarios
Enables saving of work in project folders and documents
Hosts an active Facebook community for users to share valuable tips and tricks
Facilitates creation of custom images via its AI driven art generator, Jasper Art
Price
Starter: Starts at $99 a month for the generation of up to 33,000 words
Professional: At $59 a month, it generates up to 260,000 words
Enterprise: Pricing details can be gathered via their sales team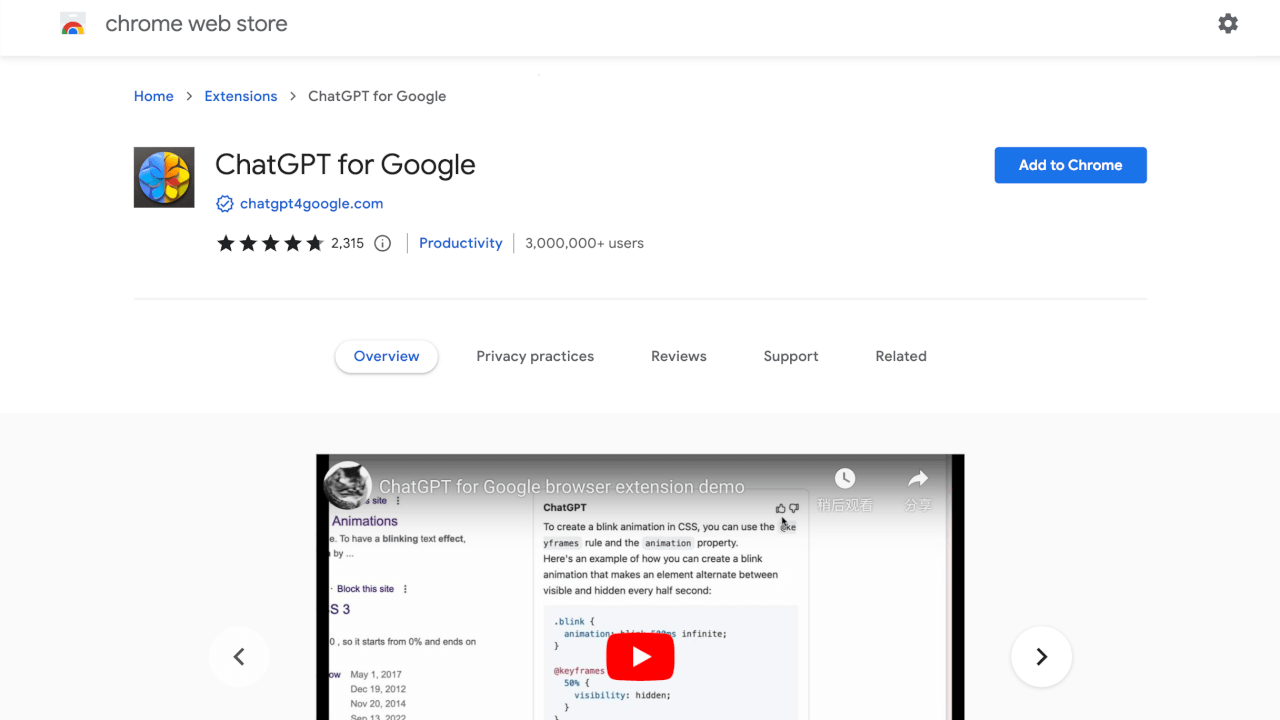 ChatGPT for Google is an accessible chatbot designed by OpenAI. A common issue faced by users when using this AI chatbot is that it is restricted to a single browser tab. The extension for Google resolves this problem by making ChatGPT available alongside the Google search results.
Features
Easy setup with an OpenAI account login through the extension
Allows the rephrasing, summarizing, or simplifying of pre-existing content
Supports asking questions about specific search results to aid in research work
Delivers results side-by-side with Google search results
Works on different search engines via Chrome like Google Search, Bing, Yahoo, and Duck, Duck, Go.
Limitations
Often includes factual errors calling for additional fact-check to ensure accuracy
Some users find the content written by ChatGPT generic and lacking originality
Price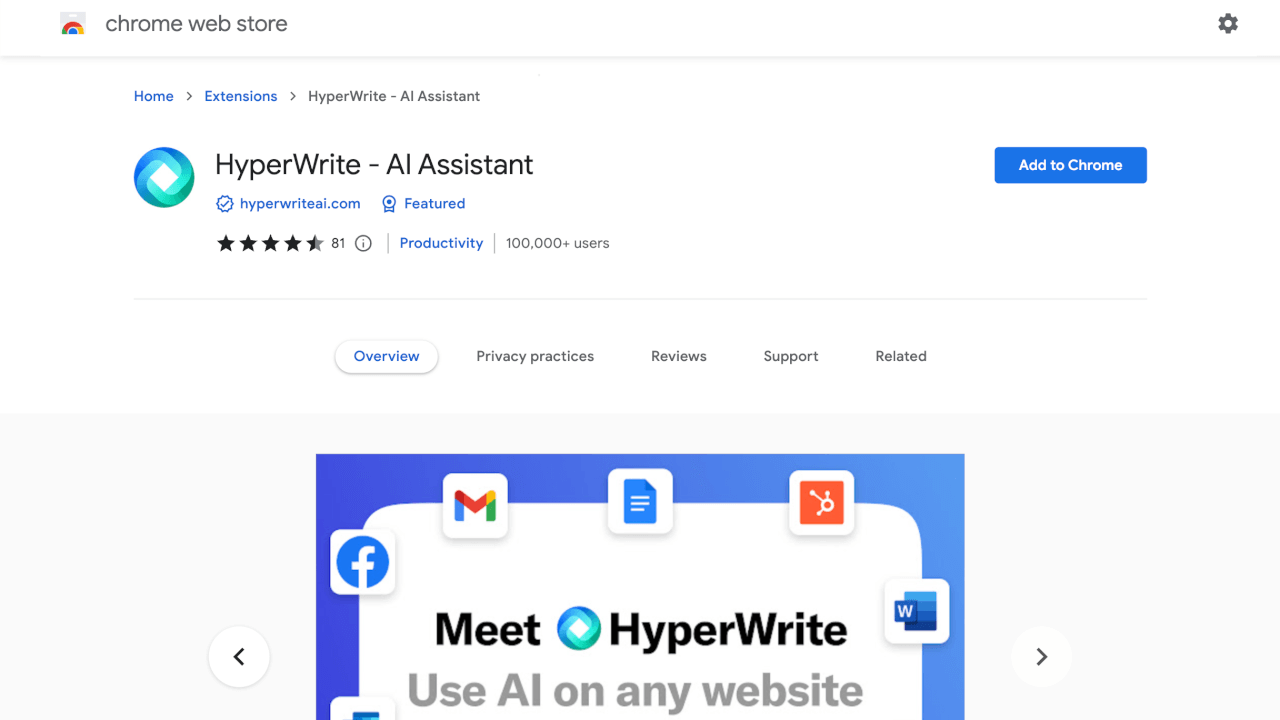 HyperWrite is an all-round AI writing assistant aimed at facilitating the creation of emails, blog posts, website copies, and much more with increased efficiency. By generating, rephrasing, personalizing, and enhancing your content within seconds, HyperWrite is designed to make your work quicker and easier.
Features
Functions like ChatGPT, but with the added advantage of a Google Chrome extension to bolster your writing and creative abilities across the web
Understands specific writing styles to generate content in accordance with your preferred tone and voice
Comes with an internet-wide search function to find new information relevant to your work
Provides multiple editing tools to adjust your text
Using the exploration feature, familiarize HyperWrite with your writing preferences for more targeted content generation
As a Google Chrome extension, it can be used freely for unlimited text generation, both on Google Docs and across the web.
Price
Starter: Free forever with 15 Generations/Month, 500 TypeAheads/Day, and 15 Rewrites/Month
Premium: $19.99/month, offering unlimited Generations, TypeAheads, Rewrites, and 400 Assistant Actions per month
Ultra: $44.99/month, inclusive of everything in the Premium package, along with extended term AI memory, priority customer support, longer Generations, and 1000 Assistant Actions per month. This plan also provides an increased character input limit of 7000.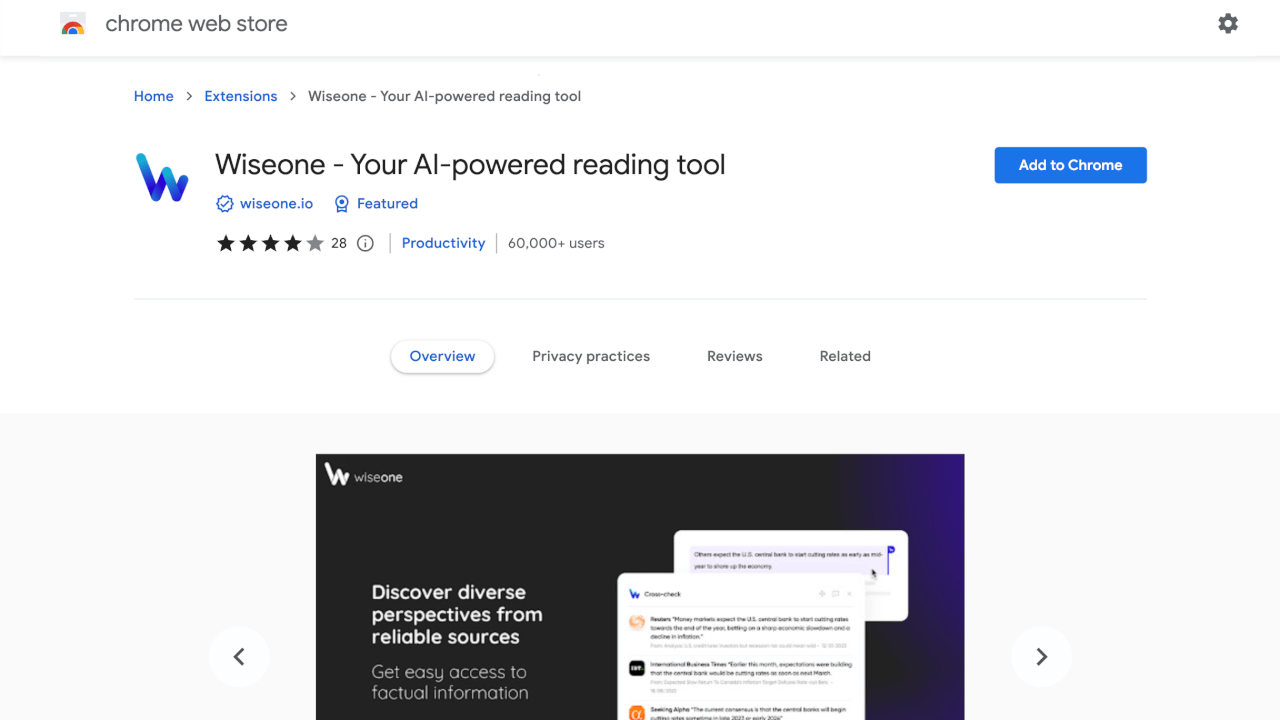 Wiseone is an AI-enhanced Chrome extension offering an improved online reading experience. It simplifies complex information and provides easy access to accurate facts, offering concise and clear answers.
Features
Equipped with a 'Discover' feature for better understanding of intricate concepts and vocabulary enhancement.
Verifies factual information by comparing multiple sources with similar topics.
Summarizes webpages or website content for retaining key takeaways.
Offers access to articles from various sources for a deeper understanding of the subject.
Introduces itself as an AI-powered reading copilot.
Recognizes all text types and simplifies reading without altering the content flow.
Offers comprehensive explanations and context of complex concepts when hovered on them.
Gives access to competitor articles for a broadened perspective.
Includes a 'Summarize' button that simplifies the full text into chunk paragraphs.
Functions as a subject expert by answering various questions.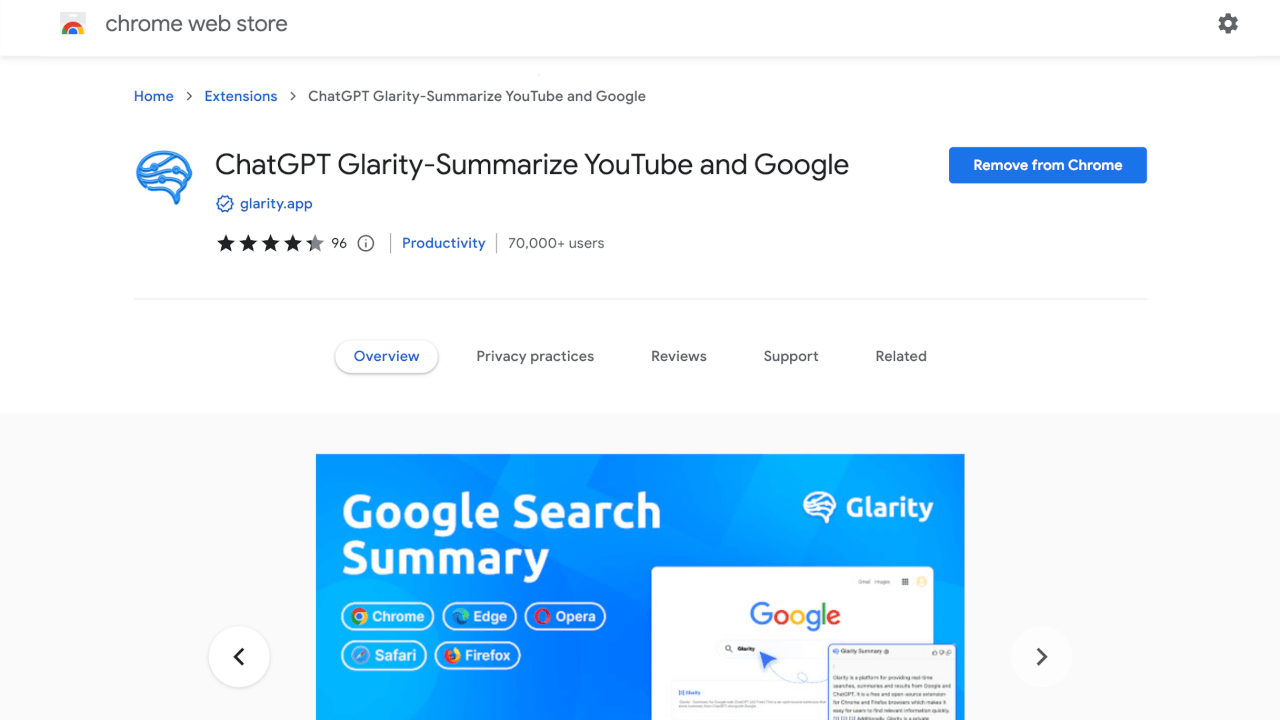 Glarity is a unique AI-powered, open-source Chrome extension that leverages ChatGPT to provide summaries for search results and YouTube videos.
Features
Works automatically to create summaries right as the video begins
Displays the summary on the right side of the video
Offers customization for the prompt it sends to ChatGPT
Requires a ChatGPT account for usage
Comes with an option to add OpenAI's API key
Provides an option to turn off extensions for other websites besides YouTube from the settings
Has a manual mode to only generate summaries upon clicking the button.
Price
Free of charge. Users can download Glarity without any cost.