10 Best AI Writing Tools in 2023
lvwzhen
Saturday July 15th, 2023
AI technologies, specifically AI Writing Assistant tools like OpenAI\'s chatGPT, have seen remarkable advancement recently. Initially, their use was confined to tasks with predefined guidelines. Yet, these tools have evolved, boasting the capability to perform creative tasks such as writing, exemplified by groundbreaking tools from companies like OpenAI.
The world of AI writing software is brimming with choices, with tools that appropriately create long-form content, craft compelling headlines, diminish writing errors, and enhance production efficiency.
Here is a comprehensive catalog of the top 10 AI writing tools including all the essential details you should know: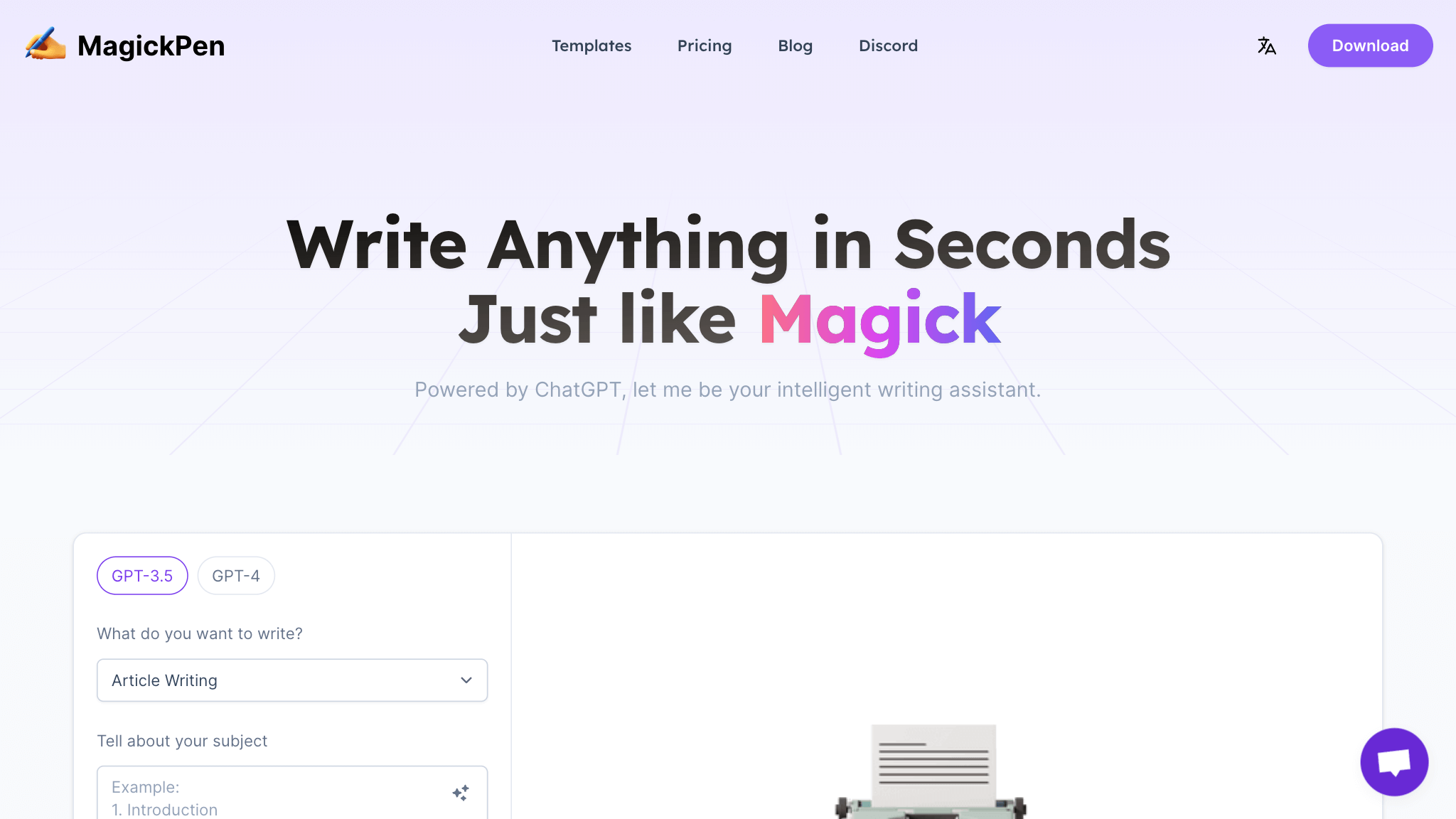 MagickPen, an immaculate blend of technology and intelligence, is a writing assistant entirely powered by Artificial Intelligence (AI). Designed to bring efficiency and fluency to your writing tasks, it effortlessly handles a slew of tasks, including but not limited to writing, translating, grammar checks, and code repair.
Built on the reliable engines of ChatGPT, users have the liberty to choose between the options of GPT-3.5 and GPT-4 based on precise needs. Need an efficient assistant or a precision-dedicated one? MagickPen has versatile options all set for you!
Features:
Ease of use: Simply key in your topic, and voila! Your content is generated. Its purpose is to make writing accessible and effortless for everyone.
Customisation at its best: MagickPen houses advanced settings that allow for an impressive amount of customisation, including defining roles, manipulating language use, adjusting tone, and specifying length.
Offers a proactive free trial, allowing users to experience the top-tier features at zero cost. Moreover, it provides flexible payment options to cater to different user needs.
Rich variety of templates: With over 90+ templates spanning across manifold fields such as writing, education, work, and lifestyle, MagickPen guarantees a great fit for all your writing situations.
Free: $0 with daily limit of 10 credits and 500 words.
Pro: From $10 and up to 6,000 words per generation and customer service.
Subscription: $19 monthly or a yearly discount, unlimited GPT-3.5 credits, 300 GPT-4 credits.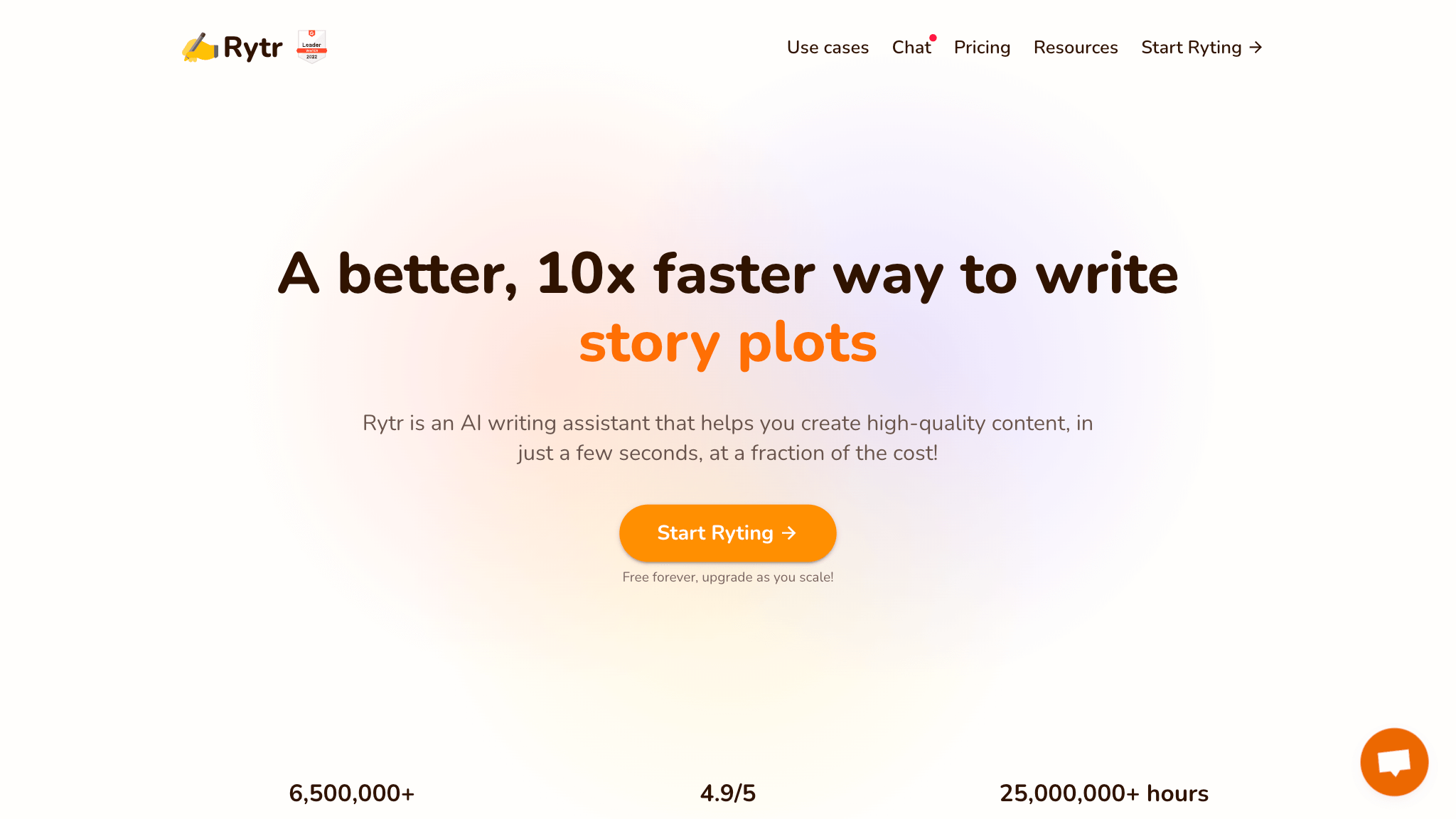 Rytr, an AI writing tool based on OpenAI\'s GPT-3 API, is designed for content creators, SEO, and copywriters. Unlike
, Rytr and other AI writing platforms have pre-built prompts and templates for over 40 use cases, including creating Facebook Ad copy, social media posts, and blog post briefs.
Features
An AI writing tool that lets you generate content in 30+ languages using more than 20 tones and styles
Built-in feature to check for plagiarism in your articles and edit text outputs
Capability to create AI-based images from prompts
Allows you to create customized use cases for content generation with a premium subscription
Despite its capabilities, it\'s worth noting that reviews and research show Rytr may not be as powerful as other AI writing assistants. It has word-count limitations even on the unlimited plan.
Price
Free version available
Saver plan: $9 per month or $90 per year
Unlimited plan: $29 per month or $290 per year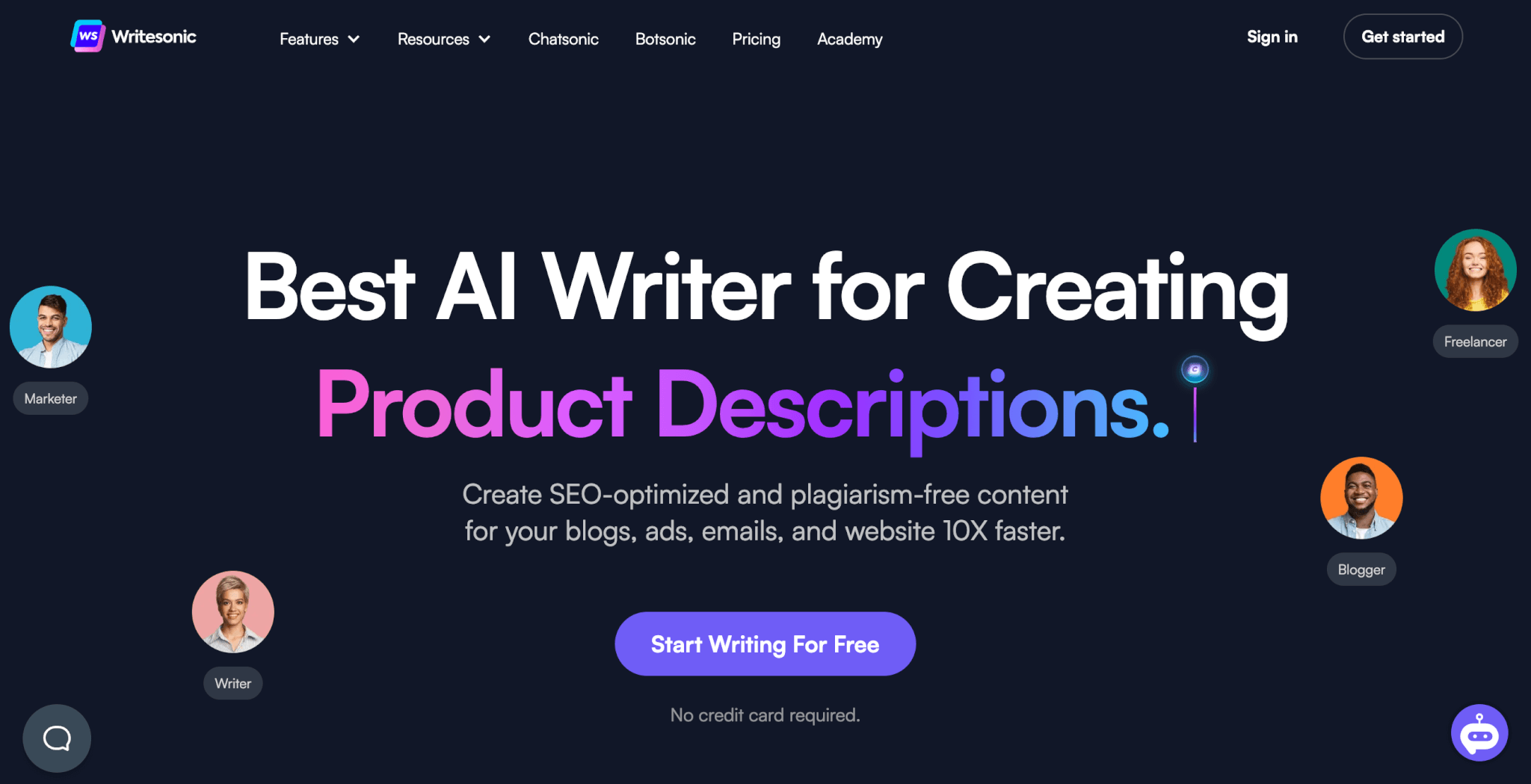 Writesonic is an AI-powered writing assistant that generates Google ads, landing pages, emails, and more in a matter of seconds.
Features
AI-enhanced functionality for product description, setting the occasion, and offer input
Access to an extensive library of over 40 copy templates
Provision of connected Facebook community for shared user advice and techniques
Price
Free: No cost for up to 10 credits per month
Basic: $15 a month for up to 100 credits per month
Economy: $25 a month for up to 750 credits per month
Professional: $45 a month for full access with unlimited credits
Startup: $95 a month for no-limit, unrestricted use of services with unlimited credits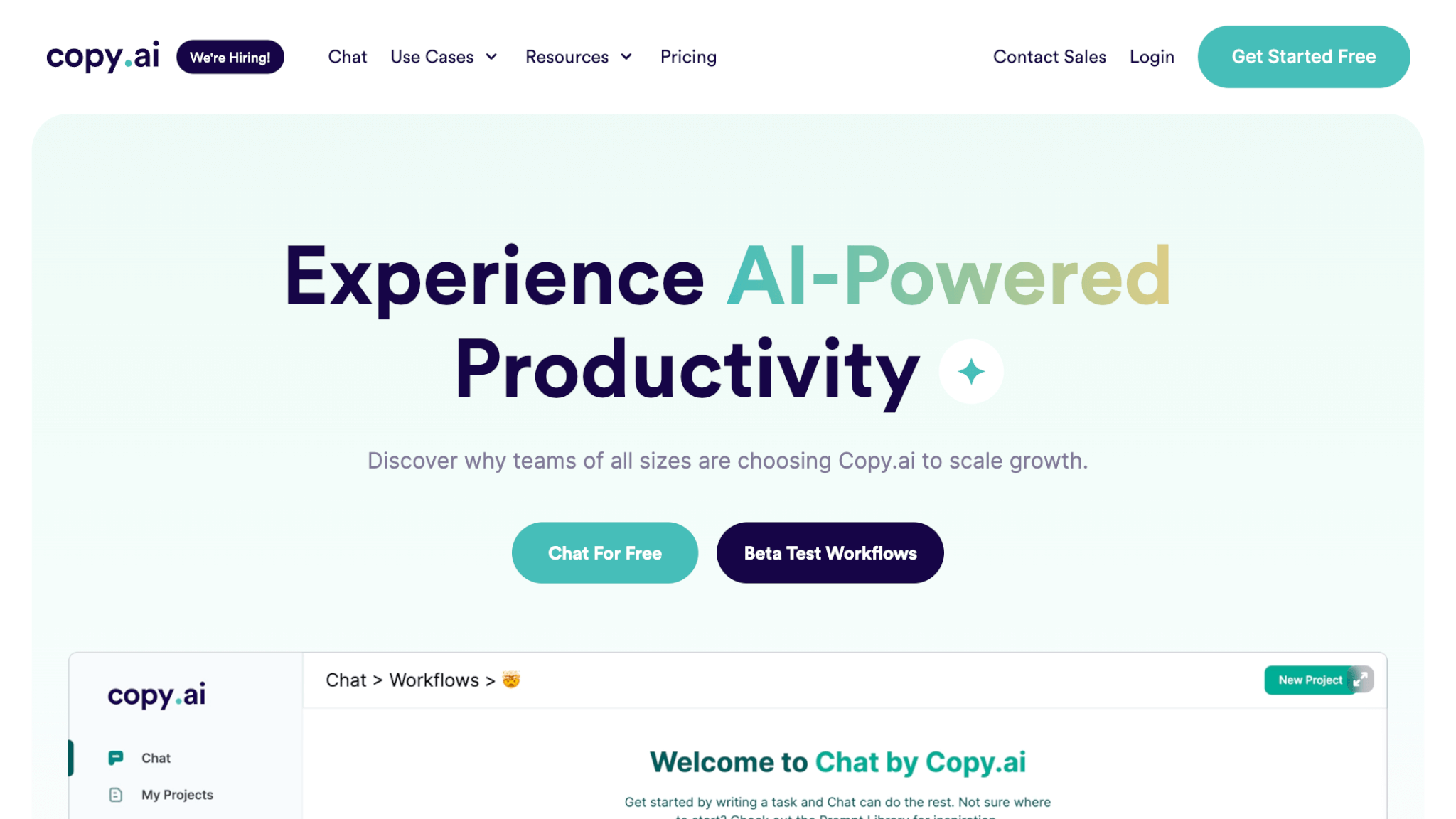 Copy.ai is a relatively new addition to the AI content writing industry. It relies on the ChatGPT-4 API platform, allowing for the creation of high-quality blog and copywriting drafts when given the right prompts and inputs.
Features
Template library that facilitates creating blog outlines and writer briefs
Enhanced security features, rendering it an optimal choice for enterprise companies concerned about data compliance
Price
Free: 2,000 words per month at no cost
Pro: $49 per month, with unlimited words (restricted to 1 user)
Enterprise: Please get in touch with Copy.ai for pricing details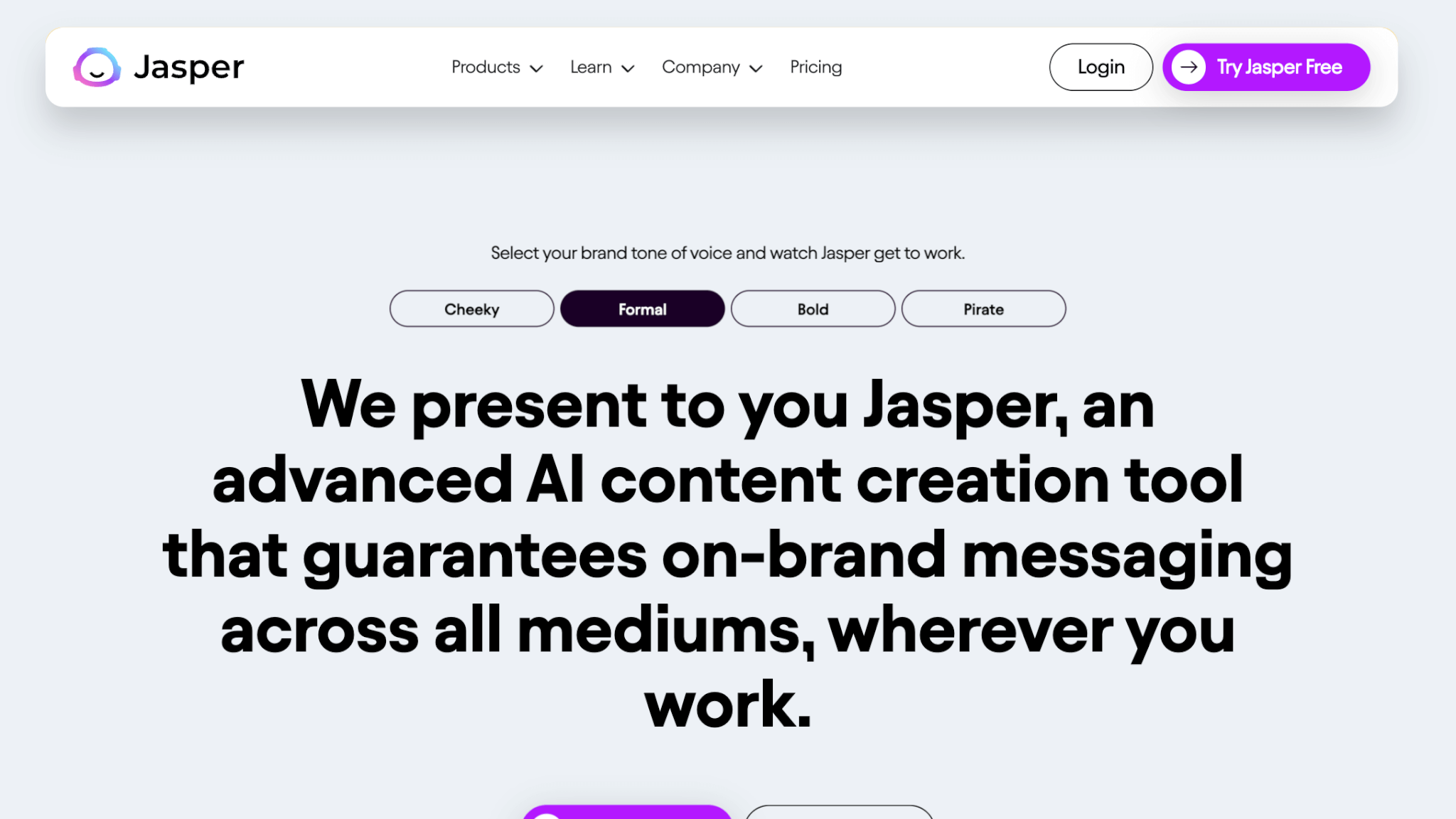 Jasper is a comprehensive AI-powered writing assistant specially designed to streamline your content creation process. This system is perfectly developed to craft content based on the particular key details you input about your chosen topic.
Features
Offers a unique paraphrase feature to help you reconstruct specific sentences
Allows you to review your content for any plagiarism or grammatical errors
Provides various writing templates for different writing scenarios
Facilitates saving of your work in distinct project folders and documents
Comes integrated with an active Facebook community where users share useful tips and tricks
Assists in the creation of custom images with its special AI art generator, Jasper Art
Price
Jasper has a number of pricing plans that are designed to be adaptable to your specific requirements:
For beginners, it offers a \'Starter plan\' which is priced at $99 a month and allows up to 33,000 words a month
A \'Professional plan\' for more experienced users, priced at $59 a month allowing up to 260,000 words a month
The \'Enterprise plan\', ideal for large businesses, offers custom pricing. Interested parties can contact their sales team for a quote.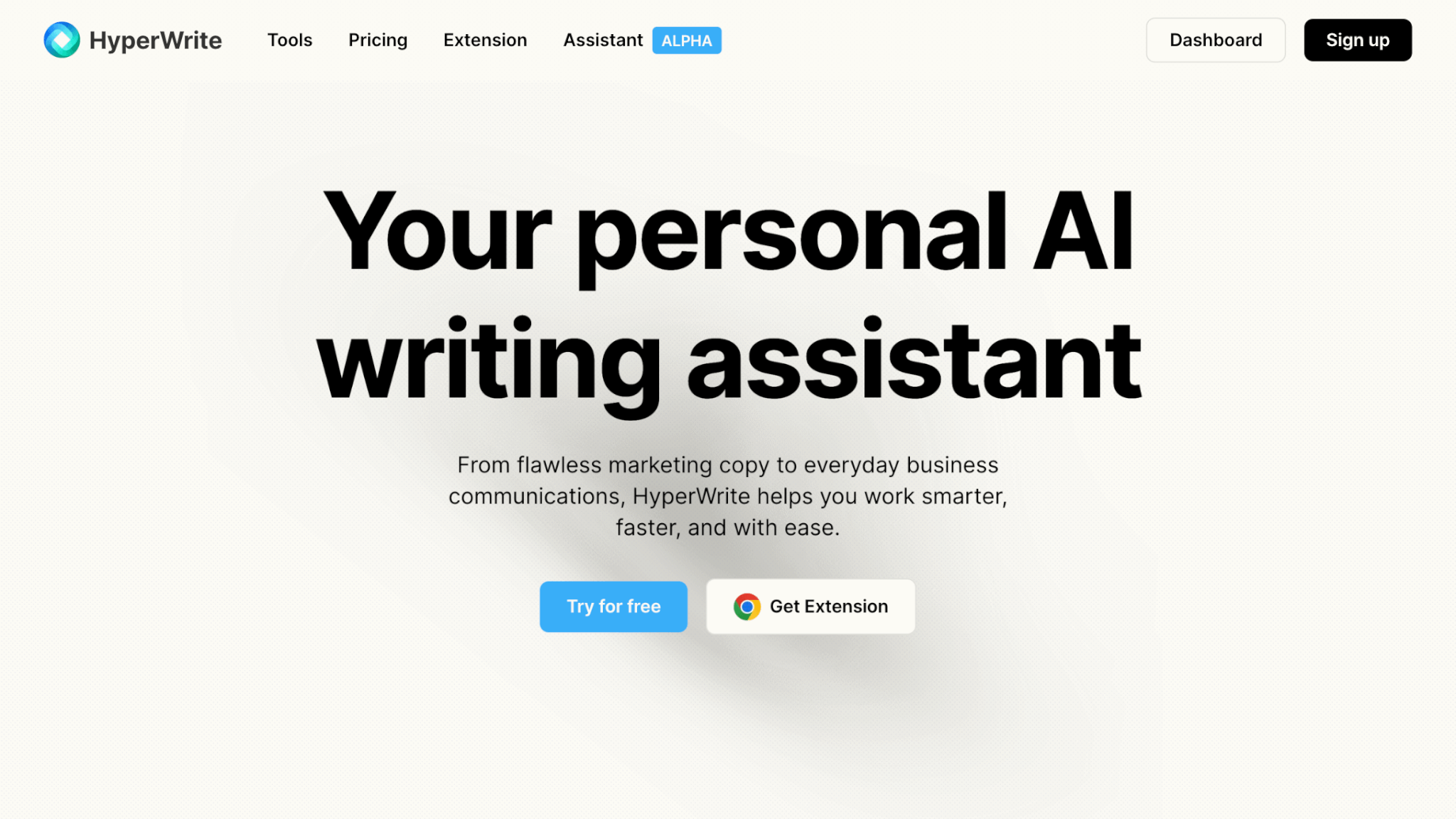 HyperWrite is a comprehensive AI copywriting tool designed to generate unique content once you\'ve provided some primary details about your subject.
Features
Offers unique phrasing and sentence suggestions as you write
Can incorporate information from selected sources
Ideal for both students and professionals
Comes with varying plans tailored to your needs
Price
Starter: Free forever with 15 Generations/Month, 500 TypeAheads/Day, and 15 Rewrites/Month
Premium: $19.99/month, featuring unlimited Generations, TypeAheads, Rewrites, and 400 Assistant Actions per month
Ultra: $44.99/month for everything in Premium plus extended term AI memory, 7000 character inputs, priority support, longer Generations, and 1000 Assistant Actions per month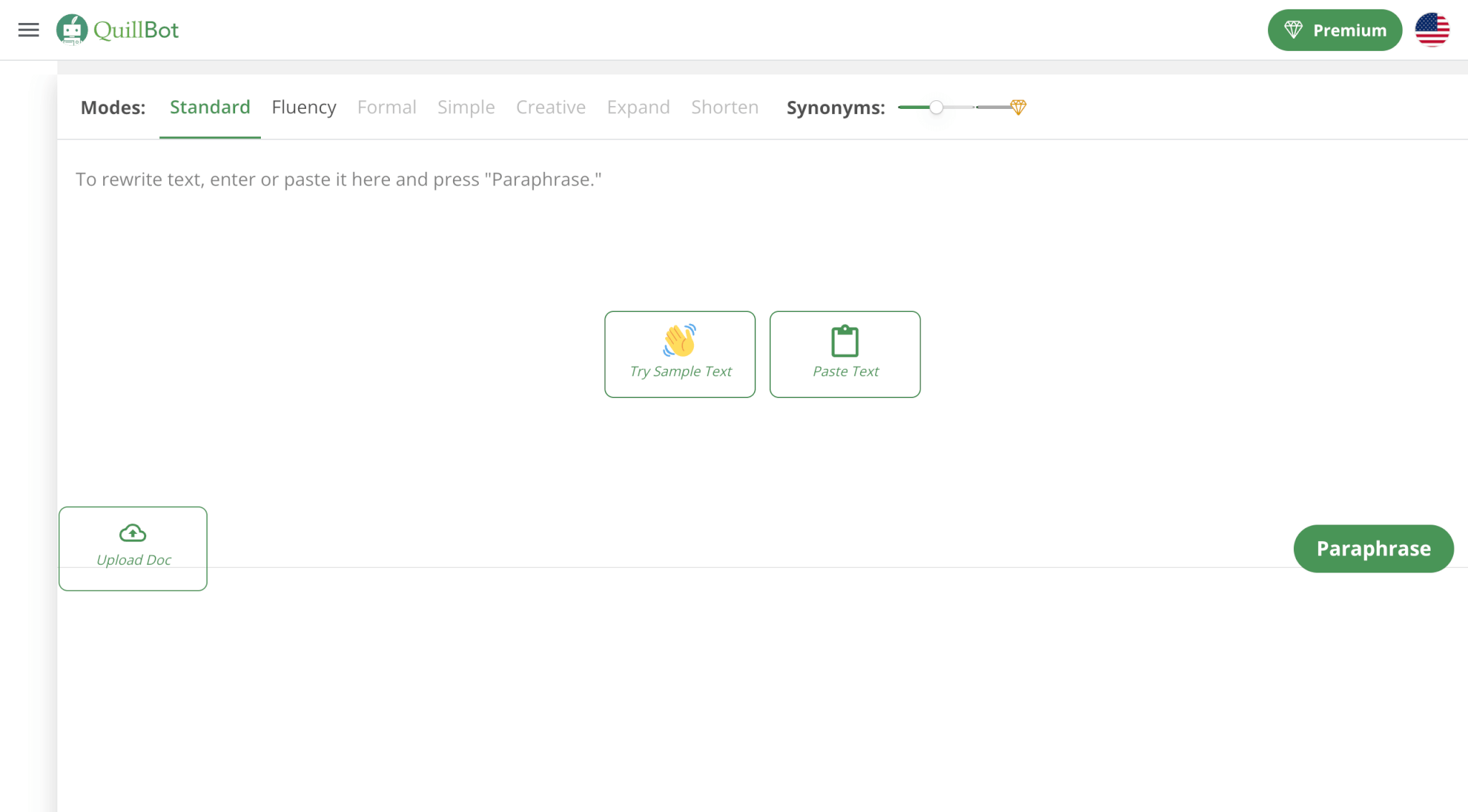 QuillBot is an all-encompassing AI text generator and paraphrasing tool dedicated to creating both short and long-form content. Although it can\'t manufacture new text, it\'s capable of summarising or paraphrasing a document, an article, or any content you provide.
This comprehensible, web-based application can assist you in avoiding plagiarism. Alterations in the paraphrased text are color-coded to help you keep track of the modifications in the written content, which can provide tremendous support to the novice writers in your team.
Features
Provides seven modes that set the tone or direction of the modification
Comes with an AI-powered thesaurus for identifying and replacing overused words
Helps to prevent plagiarism by color-coding changes in the paraphrased text
May present technical challenges that force users to spend extra time troubleshooting
Limited number of monthly pages and words, even in the premium plans
Price
Free
Premium: $19.95 per month (1 user)
Team: $7.50 per writer per month (minimum of 5 users)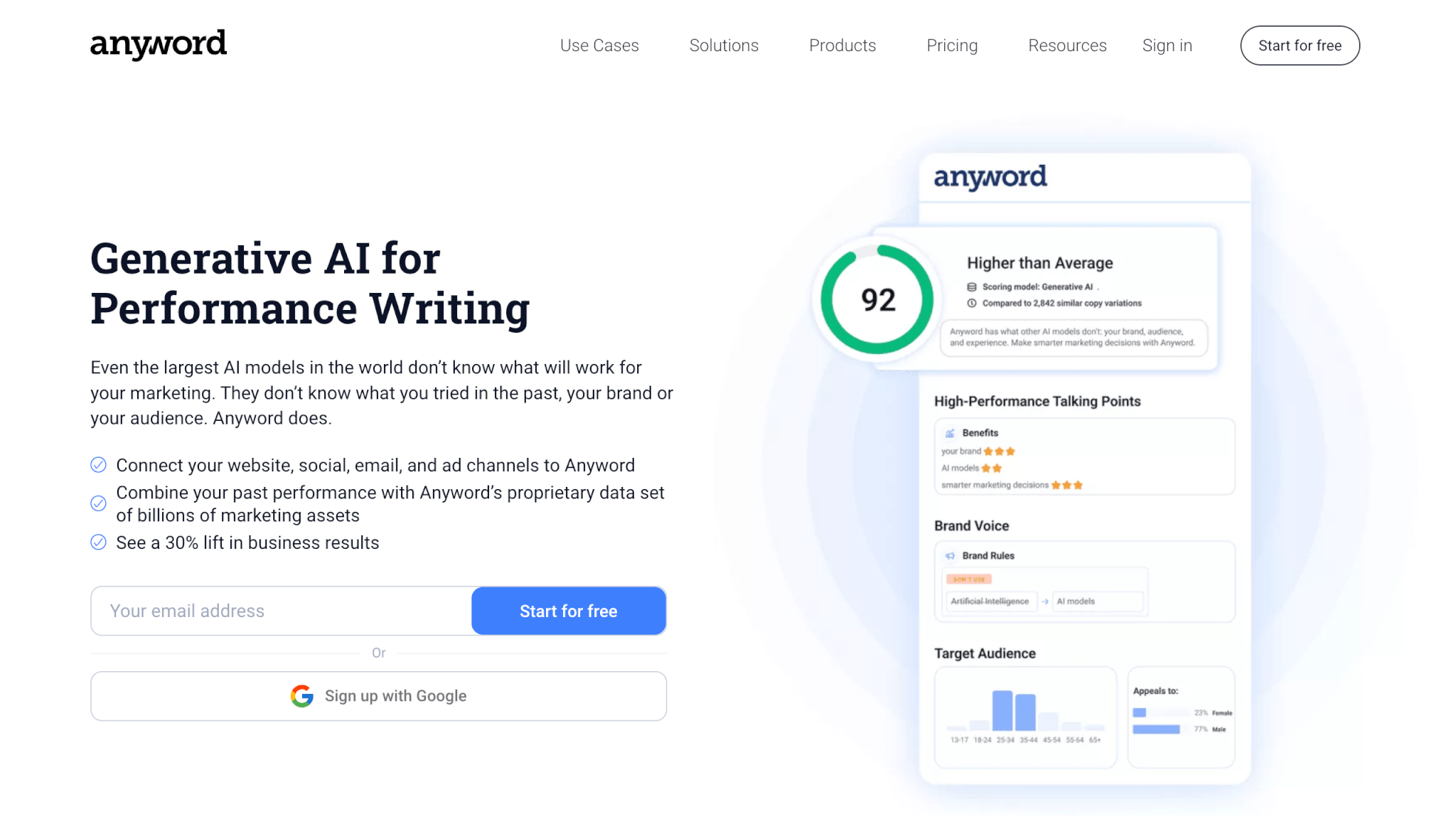 Anyword is a performance-driven AI that crafts superior sales copy geared towards optimizing your marketing strategies.
Features
Generates content and learns from every piece of copy you\'ve ever published across your marketing channels.
Understands what works best for your marketing strategies, brand, and audience.
Incorporates policy compliance detection features and generates content in 25 different languages.
Price
Starter: Priced at $39/month when billed yearly. Geared towards solo marketers and freelancers.
Data-Driven Teams: Priced at $49/month when billed yearly. Ideal for small marketing teams.
Business: Custom pricing upon demo request. Custom-built for 5+ users and larger organizations.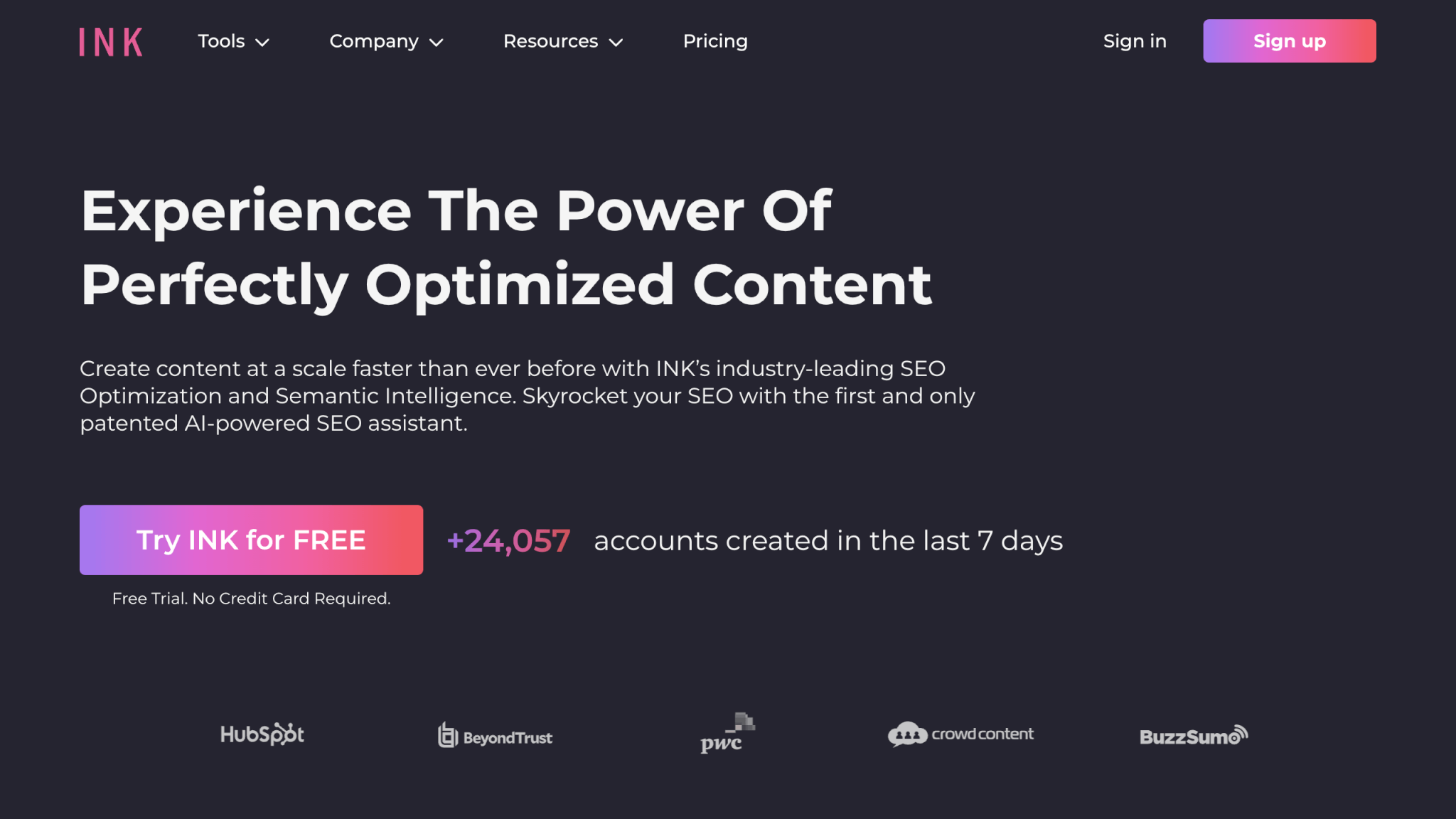 INK combines AI co-writing and an SEO assistant, designed as a Chrome extension to assist in content development. The SEO assistant enables the creation of content that ranks highly in search engines, driving organic traffic. This is accomplished through a patented AI system that analyzes content in real time whilst providing recommendations to enhance SEO scores.
The AI Co-Writing feature aids in generating high-performing copy, assisting users in writing, rewriting, and simplifying sentences.
Features
Meta optimization
Image optimization through compression and resizing
Spelling and grammar correction
AI-writing, AI-simplifying, and AI-expanding functionalities
WordPress integration
Price
Team SEO Unlimited: Billed at $177 per month, annually, awarding unlimited INK points
Pro SEO: Billed at $44 per month, annually, providing 444 INK points
Starter: Billed at $8 per month, annually, offering 222 INK points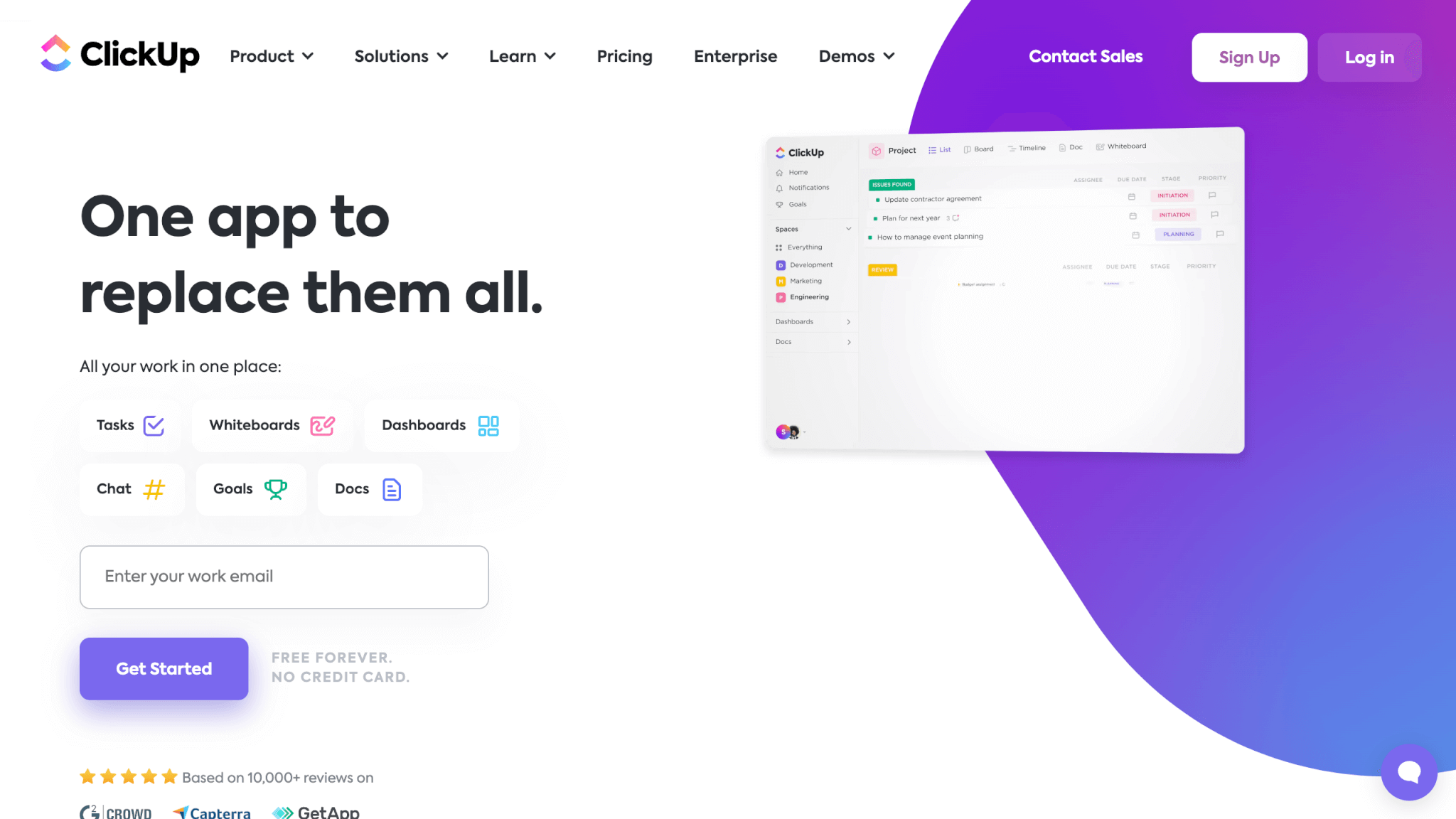 ClickUp is a comprehensive productivity platform that includes an AI content generator and assistant called ClickUp AI, designed to streamline your writing process. It is an efficient tool to overcome writer\'s block, brainstorm ideas, and accelerate your content creation process.
Features
Comes with an AI writing tool carved out for generating bios, brief writings, turning ideas into content outlines, case studies, copy for landing pages, product descriptions, and more.
Comes with a vast Template Library for forming workflows, document projects, and process maps swiftly.
Advanced features like collaborative Whiteboards and Mind Maps for converting ideas into actionable plans with your team.
1000+ integrations to speed up, customize and simplify your workflows by incorporating other tools into ClickUp, including Slack, Google Drive, and many more.
ClickUp Automations reduce the busywork so you can concentrate on what matters.
ClickUp AI\'s department-specific prompts for Product Managers.
Price
Free Forever
Unlimited: $5 per user per month
Business: $12 per user per month
Business Plus: $19 per user per month
Enterprise: Contact ClickUp for custom pricing
ClickUp AI is available on all paid plans for $5 per Workspace member per month.